The partner you trust to solve business problems with answers of where, when, and what just got bigger.
Continental Mapping, combined with GISinc, and TSG Solutions, have created the largest geospatially-focused consulting and data services company in North America. Together, we provide end-to-end geospatial solutions that meet client needs exactly where they're at. Learn about the complete solution stack now available:
Capabilities
Acquisition and Curation

Generate and




Validate

Data Modeling, Application, System Design

Solutions and




Analytics

Satellite Source
Mobile Lidar
Aerial Lidar
Aerial Imagery
Land Survey
Bathymetric Survey
Terrestrial Lidar
Backpack Lidar & Imagery
360° Video Collection
Source Harvesting
Site Inspections
Open Source
360° Imagery Collection
Facility Data Collection

Feature Extraction
Artificial Intelligence & Machine Learning
Photogrammetry
Conflation
Quality Control & Assurance
Cartography
Data Fusion
Risk & Vulnerability Assessment

Enterprise Architecture Design
Database Design
Data Services
Solution & Integration Design
Application Design
Security System Engineering & Design

Analytics as a Service
Esri Platform
Cloud Migration & Managed Services
Mapping & Visualization Monitoring
Public Asset & Land Management System
On-Site Support
Spatial Analysis
ArcGIS Utility Network for Water
Consulting & Training
Business & GIS Integrations
Automation & Application Development
Situational Awareness
Emergency Preparedness & Response
What You Can Expect
Our clients and partners can trust they'll be receiving the same partnership, quality, and value that they're accustomed to, with added one-stop access to all manner of services and solutions that empower clients to take action and solve their toughest challenges. Our legacy email and contact information will remain functional during our transition, so you'll always be able to get a hold of us. Information about our new brand will launch in the news, on social media, our websites, through email, and other outlets. We'll provide plenty of notice beginning in January 2022 about our new brand, but know that there will be no interruptions to service or access to our teams when the name change happens. We'll work with our clients and partners to update all our contact information and any required paperwork.
Brief History:
Continental Mapping was founded in 1999 in Sun Prairie, WI. They began as a photogrammetry firm focused on DOT work, but later expanded into Defense & Intel work in 2004. In 2020, Continental Mapping received significant capital investments by Bluestone Investment Partners, allowing them to acquire TSG Solutions in October of 2020 and GISinc in January 2021. They are proud recipients of the Inc 5000 "Fastest Growing Business" Award from 2018-2020.
GISinc was founded in 1991 in Birmingham, AL. They proudly hold the title of the "only double platinum partner of Esri and Cityworks in the world" and have been awarded almost every Esri specialty designation available. GISinc customers have received over 75 SAG awards over the years. In January of 2021, GISinc joined Continental Mapping to become "GISinc, A Continental Mapping Company."
TSG Solutions was founded in 2001 in San Bernadino, CA. They began by developing custom physical security and crisis planning & response software applications. With senior leadership including many former military members, they have developed long-term relationships with key DoD and energy infrastructure clients. In October of 2020, TSG joined Continental Mapping to become, "TSG, A Continental Mapping Company."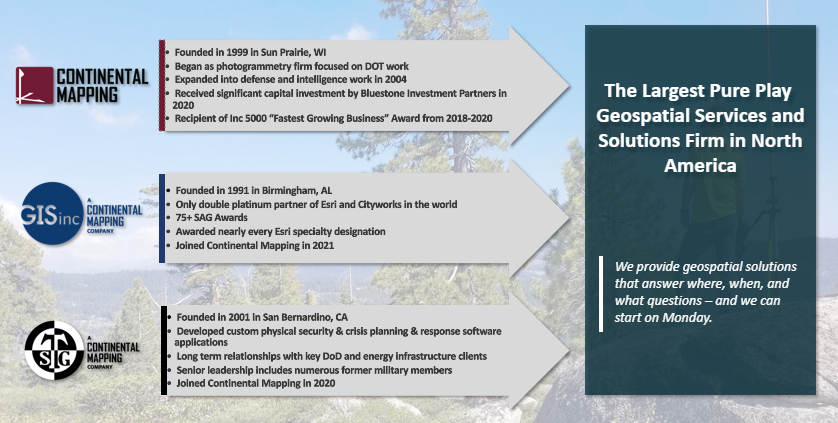 Questions?
Reach out to your Account Executive or fill out our contact form. We'd love to help!