This article was written regarding work conducted under legacy company names: Continental Mapping, GISinc, or TSG Solutions. These three companies merged in January 2021 to form a new geospatial leader Axim Geospatial.
Located in Travis County, Texas, the City of Pflugerville supports a population of over 75,000. The municipal officials help keep the City running while quickly addressing emergencies, power outages, wastewater back-ups, or any other issue that may arise.
Without an existing asset management system (AMS) in place, the City was forced to manage assets and track work activity manually. Those paper processes were inefficient, a pain for team members, and opened the door for more errors and future problems.
The City knew they needed an AMS solution to take better care of their wastewater plants, parks, and streets. But with so many critical jobs that needed to be handled as soon as possible, they couldn't afford to dedicate months solely to adopting the new solution.

So how did the City manage to fully integrate and embrace Cityworks AMS in just two months and two weeks? Below, the City shares 6 tips the Pflugerville team personally followed to implement Cityworks, make the most out of the solution, and reduce stress along the way.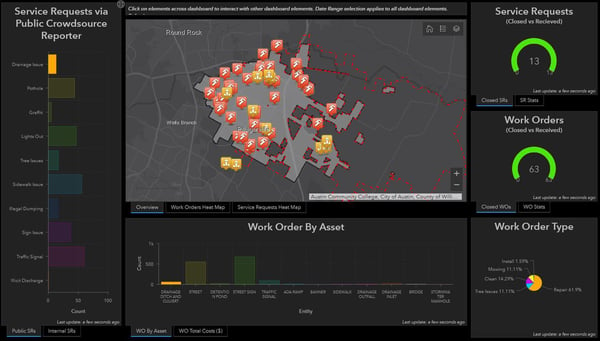 Take a look at this Pflugerville Cityworks Streets dashboard, here!
The City of Pflugerville's 6 Steps to a Painless & Efficient AMS Adoption Process


Choose the AMS solution that fits your needs for both today and tomorrow.



There are a handful of AMS solutions on the market, some of which are more robust than others. Selecting the right solution from the start is essential. After all, if you don't choose the best solution for your organization, you will have to repeat the process.

For Pflugerville, the team's main focus was finding a robust tool they could use to track work orders, even as they grew. They chose Cityworks because its capabilities fit their current needs and provided them with the flexibility to continue to expand operations in the future.

In particular, Cityworks' AMS provides the structure for the City to lighten the load on employees and decrease overtime. They could use the solution to streamline workflows for new work orders and storeroom implementation. The Dashboards also allowed their team and the community to easily see critical information, from COVID updates and work orders to federal reimbursement.



Choose the right team and implementation strategy for the job.



The key to a successful AMS implementation is choosing a team that provides transparency, availability, and teamwork. With the right partners, you should never feel like you don't know what is going on with your project.

The City of Pflugerville had an existing relationship with Axim Geospatial and was in close proximity to key technical staff, so Axim was a natural choice. Our focus on collaboration and communication also aligned with the City's values and goals for the project.

Rather than transitioning every department into Cityworks at one time, the City and our team started with a Jumpstart: a small-scale implementation that enabled key stakeholders and end-users to familiarize themselves with the solution before implementing it across all departments.

Our initial configuration was lightweight and low-stress. Best of all, it didn't add excessive work to the City's overwhelming responsibilities.



Start the project with a detailed Discovery Workshop.



Often, the most significant challenges organizations face when implementing a new AMS solution is a misunderstanding of what data needs to be transferred over, who will use the system, or how workflows should be defined.

To reduce headaches and confusion, the City and Axim began with Discovery Workshops, where we:

Discussed the City's biggest pain points and created a plan to address them
Defined the workflows, work orders, and inspections
Met with key stakeholders and decision-makers to ensure everyone was on board
Identify exactly what our team needed to do to help the City admins meet their goals




This step might seem trivial, but it allowed both teams to be on the same page every step of the way. This prevented headaches and created a smooth process from start to finish.



Maintain frequent communication with your implementation team.



As mentioned earlier, communication and collaboration are a must during any Cityworks implementation process. Our team worked with the City of Pflugerville's admins, who were motivated and excited to learn the system, on a weekly basis to keep the project on track.

These regular sync meetings kept the City fully aware of expectations and allowed time to celebrate milestones as they passed. They also ensured that the project stayed on track, the implementation team stayed accountable, and everyone looked at the process as a collective.

Over the course of several weeks, we maintained constant communication as we moved onto onsite configuration with admins and staff members, a mix of remote and onsite configuration, and support configuration on the fly.

This not only provided peace of mind for City leaders, but it also ensured that they got the most value out of the partnership and were never in the dark.



Test the system to catch problems before they happen.



If your city isn't testing and reviewing your new AMS system until the implementation is completed, you could extend the timeline significantly. The City of Pflugerville focused heavily on testing and provided remote feedback promptly to keep the process on track.

Because their admins supported configuration changes with Axim, our team was able to tweak workflows and make edits quickly and efficiently. This meant less waiting and back-and-forth for the City, as well as ensuring that things worked exactly as they needed them to.



Ensure every admin and end-user receives proper training.



Training isn't one of the most glamorous parts of the process. However, without it, your city could become dependent on a GIS partner to maintain your solution.

The City of Pflugerville wanted the ability to understand, manage, and best utilize their solution after implementation had finished. As a result, the City and Axim focused heavily on admin and end-user training. We spent the last leg of the project focusing exclusively on knowledge transfer to set up the team members who would depend on the AMS daily for success.

To make the process even more seamless, our team put together a water treatment workflow and schematic to help the City stay on top of one of its biggest responsibilities. We then walked through the workflow step by step to ensure all end-users had the knowledge needed to follow it for years to come.



How the 6-Step Process Improved the City's Efficiency, Accountability, & Peace of Mind

After following the six steps above, the City of Pflugerville walked away with a Cityworks solution that simplified asset management, improved accountability, and delivered actionable insights—in just 2 months and 2 weeks.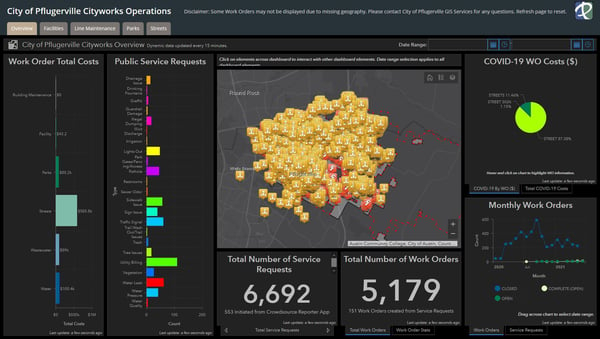 Take a look at this Pflugerville Cityworks Overview dashboard, here!
City officials were able to start taking citizen requests directly from Citizen Engagement and CrowdSource Reporter instantly. On top of that, they are now able to:
Streamline work orders for damaged guardrails or potholes created by the police dispatch
Increase response time and citizen engagement
Send out work orders with ease
Track and justify work
Identify areas where work is lacking
Gain insights from historical data to make the best decisions moving forward
The process was painless. The City was fully engaged in the project, which fostered a collaborative working environment and made implementation simple. And Axim was transparent throughout the process, so City officials weren't left with any surprises or unexpected delays.
With Cityworks, the City of Pflugerville is now able to save time, money, and headaches—and team members have peace of mind knowing their system will grow with them as the City expands.
If your city needs to embrace a new AMS, Pflugerville's 6-step process is the best way to make the change quickly without disrupting work, delaying progress, or costing you a fortune. Additionally, it allows you to walk away with the tools and knowledge you need to improve efficiency and achieve your mission.
Axim is available to help out every step of the way. If you think we could be a good fit for your organization, schedule a meeting now to get started.