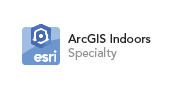 Premier Services for Geospatial Indoors Configuration, Strategy, and Deployment
(Birmingham, AL) Geographic Information Services, Inc. (GISinc), the Premier GIS Services firm established in 1991 and an Esri Platinum Business Partner, received Esri's ArcGIS Indoors Specialty Designation for expertise with indoor mapping, location analytics, and the live demo site of the GISinc Birmingham corporate office using ArcGIS Indoors.
What is ArcGIS Indoors?
Per Esri's ArcGIS Indoors website, "ArcGIS Indoors is a complete system for indoor mapping used to create a connected workplace. It provides a common operating picture for executives, workplace services personnel, and other employees and visitors to understand, manage, and use their workplace environment."
GISinc Resources for ArcGIS Indoors
In June, GISinc broadcasted a webinar series for the Esri Community called, "Going Beyond Release Ready Leveraging Esri's Geospatial Cloud," that showcased three of the most talked about technologies in advance of the Esri User Conference. One episode was devoted to ArcGIS Indoors, "ArcGIS Indoors - Smart Operations with Maps, IPS, and Wayfinding." The entire series is now available for OnDemand viewing.
GISinc is currently the only Esri Business Partner with a live demo center using ArcGIS Indoors. Instead of using the helpful Esri data provided for their demo, GISinc used their corporate headquarters sensor network in Birmingham, AL to prepare the live demo shown during July's Esri User Conference 2019. GISinc always takes the extra step to maintain expertise and instill confidence in the Esri Community when providing Premier GIS Services.
"There is extraordinary opportunity to bring the power of GIS indoors. The explosion of sensors and indoor positioning systems (IPS) is reminiscent of the GPS proliferation in the GIS industry several years ago. The ArcGIS Indoors platform will transform operational efficiency and deliver an entire new way to visualize operational awareness inside facilities. We have developed IPS to indoor mapping tradecraft and will grow our services offering helping organizations embrace this important technology,"
says Kevin Stewart, Senior VP of Sales at GISinc.
GISinc's Resume of Esri Specialty Designations
With the addition of ArcGIS Indoors, GISinc now holds the following designations:
About GISinc

GISinc, with more than 28 years in GIS, is an employee-owned company located in Birmingham, Alabama, with offices throughout the United States. GISinc has a passion for delivering customer driven location technology solutions to federal, state and local, and commercial organizations. For more information, please visit http://www.gisinc.com or call (205) 941-0442.