Axim is committed to quality in all of its geospatial services and our customer's experience. One area where Axim excels is innovative thinking about the assessment, measurement and use of geospatial data quality. Based on that expertise and work, Axim and several of its staff, Paul Braun and Dan Frye, were recently awarded a second patent related to geospatial data quality. The patent secures Axim's intellectual property of an innovative user interface to work with fitness for use data derived by the solution, Data FitnessTM. Axim previously received a utility patent for the methodology and metrics, such as the Map Tolerance Percent Defective (MTPD), that assess and quantify geospatial data quality and allow that assessment to be used against different use cases to evaluate the data's fitness of use.
Quality data is the foundation for Axim's mantra, "Clarity through geography." The patent award is just one example of Axim's industry leadership. Through certifications, industry awards, customer feedback, and a long history of first-time right deliverables, quality is engrained in Axim's culture.
The Fitness Center (below) is one component of Data Fitness addressed by the patent. This tool allows a user to choose a use case and a geospatial dataset and then:
View the MTPD for the entire dataset and how the MTPD breaks down by 3 user defined importance categories
View which data layers have the most errors to better understand where the errors are and if there in data layers that the end user is concerned about
Evaluate error distribution across different types of errors (e.g., omission, commission, etc.)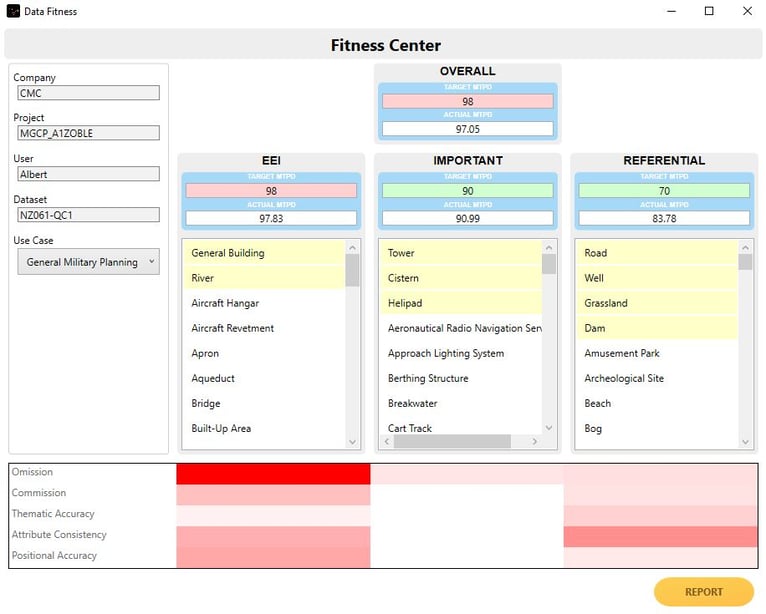 Ultimately, using the Fitness Center interface, a user can quickly determine if the geospatial dataset of interest is fit for their desired use.
Read more about Axim's Data Fitness tool here, and search for patent 11397775 on the US Patent Office site here.
---
Follow us on social: