This article may reference legacy company names: Continental Mapping, GISinc, or TSG Solutions. These three companies merged in January 2021 to form a new geospatial leader [Axim Geospatial].
Does your organization use Cityworks? We'd like to share an alternative workflow to consider for treatment plant operators. You may be accustomed to the standard process listed below, but there is an alternative process we think you should know about. Continue reading to find out what I mean.
Standard Treatment Plant Process
Traditionally, a treatment plant operator would create a work order or inspection in Cityworks like anyone else. They would open the map, navigate to the assets in the treatment plant, select the correct item, and create the work activity. This standard method works great and is easy to use. The map below demonstrates the various treatment plant assets geographically located on the map.

Alternative Process to Consider
There is, however, an alternate method that can make asset selection and work activity creation easier for plant operators by offering continuity of views between Cityworks and other business applications. Instead of placing the assets on the map in their physical locations and associating them with a number of related, non-spatial object tables, the assets can be placed according to their relationship to plant operations. This gives operators a more process-based visualization of their plants, instead of a more traditional bird's eye view. By placing schematics or other process diagrams--such as those commonly found in accompanying SCADA systems within the Cityworks map--the assets are displayed in a layout already familiar to plant operations staff but still support a granular asset tracking approach while remaining highly visual in nature.
Once the schematics are loaded into the map, the GIS assets are placed on top of the diagram in the appropriate location. Utilizing this method of mapping assets allows the treatment plant staff to select assets for work orders and inspections based on their relationship to plant operations, instead of the traditional geographic location method.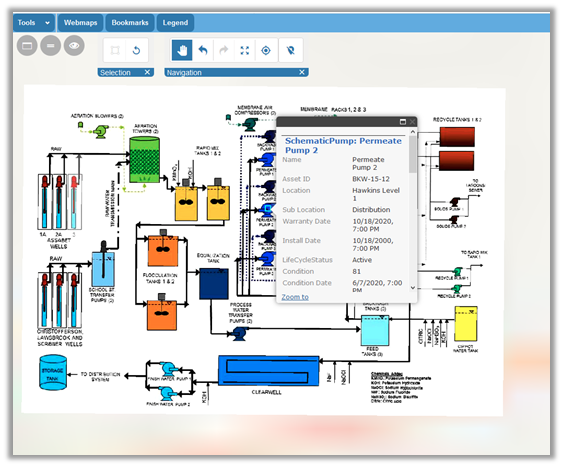 Single Sign-On (SSO) Benefits for Cityworks Maps
In addition to the alternate method of asset selection, the use of a Single Sign-on or SSO can also serve to better facilitate navigating the map. SSO is a method of signing in to Cityworks that allows your Esri ArcGIS Online or Portal for ArcGIS site to manage the user's login security and access to secured GIS services. By using this method to log in to Cityworks, you also gain the use of the web maps tool in the Cityworks map. This tool allows for the quick insertion of web maps from your ArcGIS Online or Portal for ArcGIS site. With the web maps tool functionality, the user can quickly navigate to different plant facility sites or to the main utility network with a click. No need to turn unnecessary GIS attributes on and off each time. The various web maps will then manage the layers.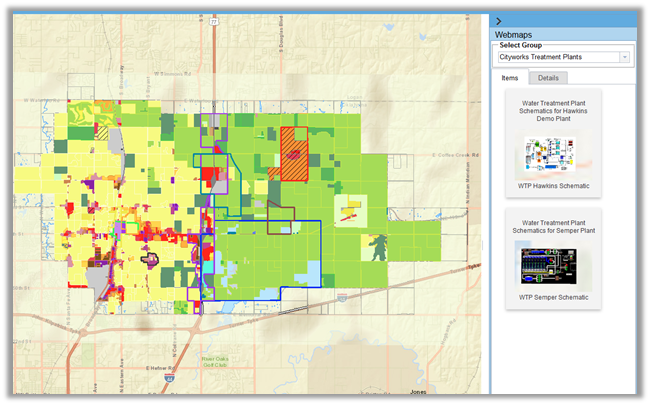 Additional Guidance
We hope this blog on alternative Cityworks workflows has provided some value to you! If you ever need additional Cityworks help, don't hesitate to reach out to the Axim team.