This article may reference legacy company names: Continental Mapping, GISinc, or TSG Solutions. These three companies merged in January 2021 to form a new geospatial leader [Axim Geospatial].
Cityworks is a GIS-centric asset management platform fully integrated with Esri ArcGIS. With Cityworks AMS (Asset Management System) your organization can track the maintenance of your assets along with any costs associated with the day-to-day upkeep of your infrastructure. Robust data collection allows your organization to prioritize funding and provide vital statistics to regulatory agencies. Cityworks PLL (permits, licensing, and land) can provide your staff with the ability to track the permitting, planning, and licensing process with custom workflows to fit your needs. Cityworks PLL provides a convenient method of managing the permitting process and facilitating better communications among staff and with the public. Axim has partnered with numerous state and local governments, airports, and commercial clients to help them realize the full potential of Cityworks.
Cityworks AMS
There are countless ways that Cityworks can be tailored to your organization.
Vertical Assets – Using SCADA Schematics to Create an Easy-to-Use Map Interface for Plant Operators.
One of the ways we have utilized the flexibility of Cityworks is to map treatment plant assets according to schematic placement instead of geographic location. This allows treatment plant staff to create and track work activities on plant assets utilizing a layout with which they are likely intimately familiar.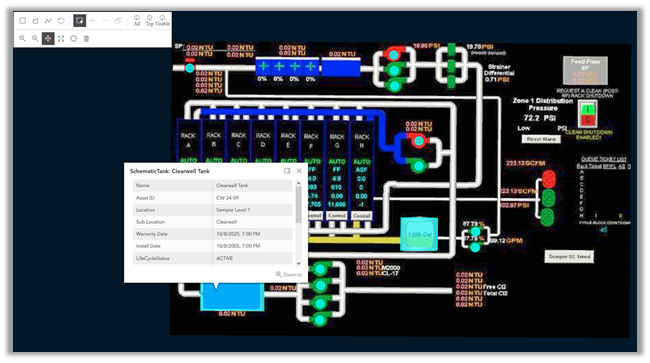 FEMA Reporting
When natural disasters occur, state and local governments rush in to serve the community and work to restore safe living conditions. Cityworks can help these organizations document work performed and recover costs through FEMA. With Cityworks, you are able to track labor costs associated with service requests, as well as labor, material, and equipment costs associated with work orders. These work activities can be tagged with an associated project such as a FEMA event. This allows an organization to see all of the costs connected to that event. Combining this data with notes, photographs, and other documentation captured in Cityworks, enabling the organization to paint a complete picture for FEMA.

Cityworks PLL
Notifications
In Cityworks PLL, notifications provide a powerful tool to communicate with customers regarding the status of their permit. You can customize notifications to notify the applicant by email when their permit has any change in status or when a specific status occurs. PLL notifications can also be utilized to update the applicant when a specific step in the permit process occurs. This functionality can provide transparency to the permit process that many customers desire.
Utilizing Business License and Public Access to License Contractors
Some organizations take advantage of the PLL business license functionality in unique ways--you don't just have to use it for the traditional use of permitting a business to operate. Cityworks can leverage the license functionality with PLL's Public Access to license contractors to operate within the client's jurisdiction. Public Access is the citizen portal to Cityworks PLL. By utilizing both the license functionality with the public access portal, your organization can manage the licensing of contractors while empowering the contractor to submit applications and pay fees online.
Additional Guidance
We hope this blog on visualizing your Cityworks data has provided some value to you! If you ever need additional Cityworks help, don't hesitate to reach out to the Axim team.