Axim Geospatial's mission is to use geospatial solutions to make the world a smarter, safer, and better place to live. We are the largest singular provider of end-to-end geospatial services and solutions in the U.S. We help solve some of the world's toughest challenges from climate change, emergency response, resiliency, to national security, facility security, mobility, and more.
When we say "comprehensive," we mean it. We empower our clients to solve challenges using the full spectrum of geospatial services and solutions, including big data services, geomatics, business solutions, cloud services, infrastructure security, analytics, and professional services. From data collection to implementation, we're there every step of the way, providing clarity through geography.
Get to know Axim better and view our Comprehensive Geospatial Capabilities sheet.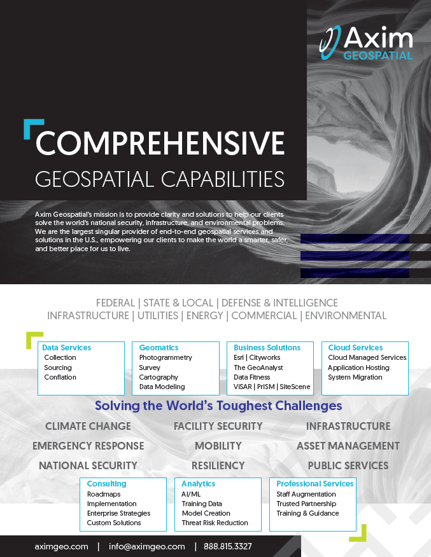 Additional Guidance
We hope this article has provided some value to you! If you'd like to learn more about how we can help you solve the world's toughest problems, don't hesitate to reach out to the Axim team.