Digital Twins, 60 Years Old in 2023
Digital Twins, in the geospatial context, turn 60 in 2023. To get the celebration started, Axim Geospatial (Axim) is releasing the first in a blog series that will culminate with a Digital Twin webinar in early 2023. Our community, the geospatial family, has been creating digital twins, or the key components thereof, since 1963 when the "father of GIS", Roger Tomlinson created the first recognized computerized GIS, the Canada Geographic Information System, supporting Canada's land-use management program (reference: https://www.esri.com/en-us/what-is-gis/history-of-gis). Simply put, a digital twin is a virtual representation of the real world - nothing new to all of us GIS professionals. Fast-forward 59 years and the examples are ubiquitous with the biggest change being the rate of technological evolution. You are already designing, building and maintaining portions of a digital twin. The challenge now is to expand upon our definition to include real-time data integration and 3D representations and visualizations. Luckily, the convergence of digitalization, GIS and broader IT innovations provides us the opportunities to put our stamp on delivering geospatial digital twins as a living, breathing system of engagement that have meaningful impact on decision making.
Digitalization and the digital transformation have gained exponential traction since the 70s when computer-aided drafting was in vogue. Fast-forward to present day and digital solutions are the expectation. The advancements and customization are now related to where and how end users interact with these digital twin solutions. GIS is evolving rapidly from a system of record to a system of engagement that allows for simulation, modelling, testing and synchronization with real-world events and activities. With the advancements of technologies such as IoT, BIM and quick capture technologies, the opportunity is here to evolve the GIS into a dynamic digital twin of the system of interest. This may be a complete transportation network or water/wastewater collection, treatment, and distribution system or a full replica of an urban environment to simulate the impacts of construction, prepare and respond to disasters, or visualize the impacts of new development. The applications are extensive but ultimately, the goal of a digital twin is to improve business processes, optimize operational efficiencies, and enhance decision making.
Axim contends that a geospatial digital twin is built from an ecosystem of 5 configurable components: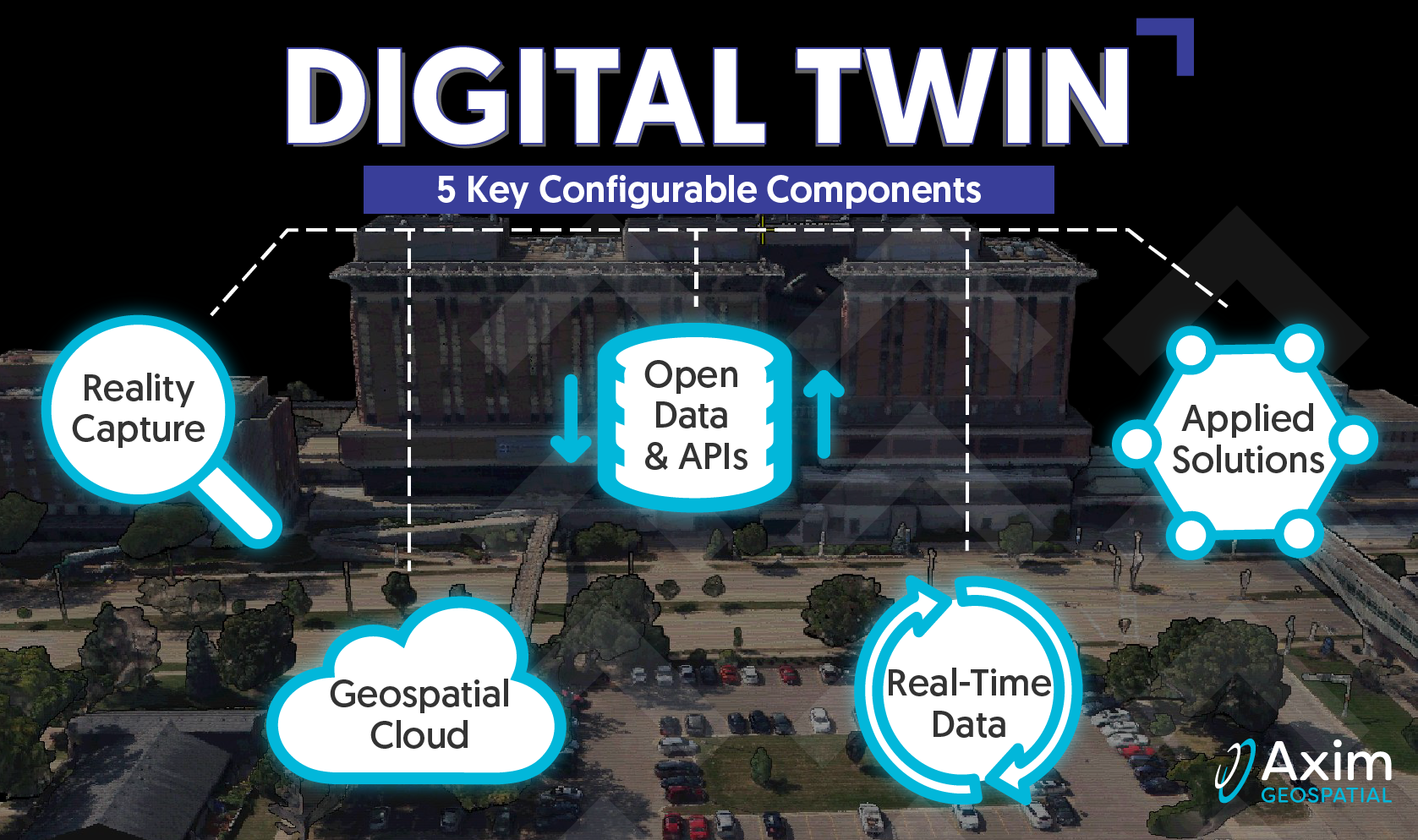 Reality Capture – the equipment, sensors and technology to map, measure, and model the real world into a digital world at whatever level of detail is warranted – typically highly detailed and visually similar to the real world. Reality capture is the skeleton for the digital twin.
Open Data & APIs – the ways in which we connect and integrate all the technology, data, models, simulations, and predictive analytics of a digital twin. Open data and APIs are the brain of the digital twin.
Geospatial Cloud – cloud infrastructure allows digital twins to grow in size and level of detail to scale to meet the targeted business problem. Geospatial cloud is heart and muscles of the digital twin.
Real-Time Data – we don't just map the environment any more we map what's happening within it. Digital twins must gather, synthesize and integrate real-time data and blend it with reality capture. Real-time data is the blood of the digital twin.
Applied Solutions. These are environments users interface with to inquire, evaluate, and learn about a business problem; and make informed decisions. Applied solutions are the activities and lifespan of the digital twin.
Axim is in a unique position to guide our customers on their digital twin journey with turnkey digital twin services and solutions that support all 5 configurable components. Axim provides end-to-end geospatial services and solutions; everything from data capture to data integration, system design, cloud architecture, solutioning, and long term management and support. We are truly the one-stop, digital twin geospatial shop.
Digital twins are not a one-size fits all approach – much like a GIS. Remember, we're all 59 years on this journey and have built so much with regards to digital twins in the geospatial context. It's a collaborative and configurable approach that is based on where you are today.
Join us for part 2 of the geospatial digital twin blog series where we begin to discuss the 5 configurable components in more detail.
---
Are you ready to learn more about how to leverage and implement Digital Twin components to solve your business problems?