The Esri User Conference is right around the corner and we couldn't be more excited! It's an action-packed week to share and learn about all things GIS, and Axim will be there in full force. This week gives us the opportunity to showcase how we help customers leverage GIS technologies, as well as connect with so many customers, partners, old friends, and meet new people. We've got all sorts of things going on at our booth (2019 - right along the main aisle), and we'll have dozens of attendees from all corners of the company. Read on to learn more about what Axim is up to at UC this year, and watch the video below to share in our team's excitement!
Find Your Way to Booth 2019
We've got all sorts of great things to show off at our booth this year. Without giving it all away (we like to keep some surprises), find your way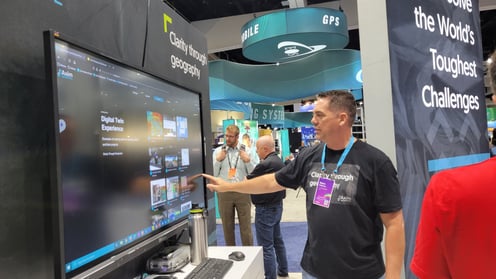 to Axim's booth (2019), to check out:
Live Demos: We'll be showcasing premiere examples of how we implement geospatial services and solutions for customers across industries, with a focus on how we bring Esri's solutions to bear. Come check our brand new demo of ArcGIS Knowledge!



Get to Know Axim: Connect with the Axim team, who are bringing their full passion for GIS. Share stories, insights, exchange ideas, and figure out how we can use geospatial services and solutions to solve the world's toughest challenges. Axim staff will all be wearing our light blue lanyards so you can easily pick us out of a crowd.


End-to-End Capabilities: From remote sensing and imagery analysis to GIS consulting and custom application development, Axim will be telling the full story of how and where we can meet our customer's needs. Come learn about how we help customers bring all the components of digital twins to help solve their challenges. We'll have an amazing imagery sensor on display - visit our booth to see the sensor up close and learn how it's used to help build 3d models for digital twins!



One-on-One Consultations

: We'll have expert staff on site. Reach out to schedule a meeting with our team to talk through your project and get to know more about how we can help.
Axim Customer Presentations
We love our customer's getting the recognition they deserve for the world-changing work they're doing. Be sure to add some of these to your agenda!
Tuesday, July 11th
8:30am: Census Bureau - ArcGIS: Best Practices for Integrated Geospatial Infrastructure
1:00pm: Veolia Water Idaho - Transparency in Capital Planning: Increasing Public Awareness with ArcGIS Hub
Census Bureau - GIS and Census: The Role of GIS in Official Statistics
GIS and Census - The Role of GIS in Official Statistics : Census Bureau
2:30pm: Veolia - Veolia's Digital Twin Transformation for Asset Management
Wednesday, July 12th
8:30am: St Johns County - Insights into Public Works
City of Austin Public Health - Improving Heat Reporting For Emergency Response in Travis County, TX
2:30pm: Conflict Armament Research - Uncovering Insights Into Weapon Diversion Using ArcGIS Knowledge - Room 25C
City of Houston Public Works - Emergency Response Coordination - Room 29D
Thursday, July 13th
1:00pm: Houston Police, Axim Geospatial - Reality Capture of Downtown Tunnels for ArcGIS Indoors - Room 29D
Get to Know Axim and NV5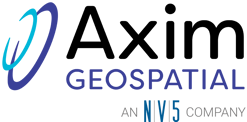 Axim Geospatial is proudly an NV5 company
. Stop by the Axim booth (2019) to learn about the full capabilities of NV5, and see some great examples of how we truly offer end-to-end geospatial solutions. And be sure to visit the NV5 Geospatial exhibit at booth 1827, just across the aisle from the Axim booth, where we'll be showcasing the full suite of geospatial software solutions.
Next Generation Network Management - Water Utilities Special Interest Group

Axim is proud to sponsor the Next Generation Network Management Water Utilities SIG on Wednesday, July 12th from 11:30am-12:30pm. This will be a great session, so make sure to add it to your agenda and connect with Axim staff to learn more. Don't forget, Axim has earned the ArcGIS Network Management Specialty Designation!
"Water utilities today face many challenges in improving asset management, coordinating daily operations, and responding to customer service requests and emergencies. To help address these challenges, Esri has developed next generation data structures and tools delivered via ArcGIS Utility Network and other network management solutions. Join this SIG to share your network management strategies and challenges. Hear from Esri experts who will join the discussion and share their expertise on network management options and implementation of ArcGIS Utility Network." - Esri
Exclusive Axim UC Swag

Of course you can't leave our booth empty handed. Chapped lips? We've got you covered with our always popular lip balms! Keep your beverages cold with our Axim can koozie. And our exclusive Esri UC 2023 giveaway, Axim Geospatial, an NV5 Company SOCKS! Both stylish and comfortable, these are a fun (and exclusive!) giveaway. These are going to go fast, so secure a pair now by scheduling a meeting with our team to talk through your project!
All Things UC: Planning Tools, Events, How to Get Around
Identify key sessions to attend on the Esri User Conference dynamic agenda.
Access the UC Event Map, enabling you to familiarize yourself with the venue and view session and activity locations ahead of time.
Consider preconference seminars, hear from Jack Dangermond at Monday's Plenary, or stream it live here.
Review Esri UC Industry Fliers to see what events are planned for your area of interest. Some industry sectors even created StoryMaps for their followers! See Water Sector Esri UC StoryMap
Visit the expo to find Esri Staff and Partners (like Axim!) to help you achieve your mission. Maximize your experience by pre-booking meetings with the Esri Team and Axim team before you go.
Sign up for the Esri Fun Run/Walk 5k on Wednesday, July 12 or check out the Padres as they take on the Mets at Petco Park July 7th, 8th, or 9th.
Party at Balboa Park to end the week on Thursday, July 13th (and pickup extra tickets for your guests).
Stop by Axim's booth #2019 for a sweet pair of UC 2023 socks!
Finally - take a quick peek at Esri UC Q&A and Esri UC Health and Safety Guidelines
If you haven't registered, you still have time! Register here today
We're so excited to see you at the Esri User Conference 2023!
---
Axim Geospatial has served the Esri Community for over 30 years.

Axim won the Cloud System Implementation award at the 2023 Esri Partner Conference. Learn more here.