We recently exhibited at the GEOINT Symposium in Aurora, Colorado, presenting how our unique tradecraft supports national security geospatial intelligence operations. The GEOINT conference brings together government and industry to discuss all manner of challenges, solutions, trends, and innovations.
A handful of talented, young GEOINT professionals is recognized for their accomplishments and awarded a Golden Ticket, which includes complimentary event registration and a slate of unique experiences and learning sessions.
Axim was extremely proud to have two of our incredibly talented employees selected as Golden Ticket winners attend this year: Andy Courtney and Emma Green. We asked them each for their top five takeaways from their experience at GEOINT as Golden Ticket winners. Keep reading to see what most stood out to them.
Andy's Top 5 Takeaways from GEOINT 2022

By: Andy Courtney

1. The Golden Ticket Experience.
I was fortunate enough to win the USGIF Golden Ticket Award back in 2020, and due to the pandemic, USGIF allowed me to default my award to 2022. I was able to network with other recipients of the Golden Ticket award, meet some of the highest-ranking leaders in our industry and receive great mentorship advice along the way. USGIF pairs the Golden Tickets winners with some outstanding speakers and panel discussions. Some key mentorship opportunities we had were with Sue Gordon, former Principal Deputy Director of National Intelligence, and Christy Abizaid, the Director of National Counterterrorism Center. Having the opportunity to engage with both Sue and Christy, listen to their experiences, ask questions, and take advice from them was an opportunity that in hindsight I can say, only happens at GEOINT. My expectations going into the Symposium were blown away by the amount of knowledge I was able to gain about our industry and the people I met.

2. In a world of growing geospatial data, maps have been and will continue to be the foundation of GEOINT.
I attended a panel discussion titled simply "What is a Map?". During this panel discussion, there was one underlying consistent message. Maps play a critical role in serving industry customers. We are living in a world where AI and ML (artificial intelligence and machine learning) are two topics discussed consistently throughout our industry. However, the key point from that panel was that there will always be a need for basic maps. As one panelist stated, with adversaries actively trying to disrupt our GPS signals, having a map and a compass and being able to read, interpret, and act is still a critical skill set needed in this industry. Hearing this was a major takeaway for me since here at Axim we produce cartographic products and data that goes direct into foundation GEOINT products.

3. Elevation data plays a key role in the industry's mission.
Being the Project Lead of Axim Geospatial's Janus Elevation work, a major takeaway for me was hearing William Glaser of the US Synthetic Training Environment Cross-Functional Team, Army Futures Command say that the biggest strategic game-changer for training and mission planning is having an accurate 3D terrain dataset. This was just one example of accurate 3D terrain data being discussed at the Symposium. Throughout the conference, I heard numerous mentions that accurate terrain data is a key foundation product to help support our industry customers. Hearing this provided me with a sense of pride and accomplishment for the entire Janus Elevation Team here at Axim, knowing that we provide such a critical product to the industry.

4. Tour of the Exhibit Hall.

Walking around the exhibit hall might be the best way to show someone new to the industry the wide variety of businesses that are recognized at GEOINT. All Golden Ticket winners were lucky enough to get a behind-the-scenes tour of the exhibit hall Sunday while companies were setting up their booths. Hearing about the logistics and effort that some companies put into their booths was remarkable. The main takeaway here is that the GEOINT Symposium is the real deal, as one company said "GEOINT is their Super Bowl". I saw many familiar companies that Axim either supports or collaborates with as well as our government partners. Overall, it was an eye-opening experience for me personally to see just the wide range of companies that are recognized as part of the GEOINT Community.
5. Space and satellite observation and the nearly infinite amount of data.
Listening to numerous panel discussions about data being captured via satellite broadened my knowledge of what services our industry provides. One of the final keynote presentations I attended was from Lt Gen B Chance Saltzman, the Deputy Chief of Space Operations for Operations, Cyber, and Nuclear, United States Space Force, who discussed how space and satellites are a critical part of the GEOINT community. He made it clear that space observations will continue to grow and expand. This brings more challenges to the community but overall will continue to provide significant amounts of data. That data is another one of my key takeaways from GEOINT. The industry is capturing data at a nearly incomprehensible pace. This exponential growth of data transitions well into the buzzwords of AI and ML and seems like the problem of information overload is solved. However, it was interesting to hear that no matter how much data, AI and ML will only do so much. Industry leaders spoke that we still need the human aspect to play a critical role in data analysis and decision-making.
Overall GEOINT 2022 was an outstanding experience, not only did it open my eyes to the diversity of our industry it also provided me with some remarkable opportunities and knowledge that I will use throughout my career. Working in the industry for 7 years now and being a part of Axim Geospatial for that entire time, I feel confident that the data we have and continue to produce plays a critical role in our industry, and being a part of that is amazing.
---
Emma's Top 5 Takeaways from GEOINT 2022

By: Emma Green

Our week at GEOINT 2022 was a whirlwind of new companies, services, and insights into the future of geospatial intelligence and the intelligence community as a whole. Here are some of my main takeaways from the week, starting with my impressions of the current and future GEOINT and intelligence communities.

1. Data, big data, and AI/ML were the main focus of this symposium.
Massive amounts of data that were once almost impossible to process in a timely manner, can now produce pivotal insights within days, if not hours.
In addition to big data, we have the added exploration of data that can be collected from space. While the '22 Symposium was focused on data, it was clear to see that future symposiums are going to lean heavily on the newly developing space industry and its contribution to GEOINT.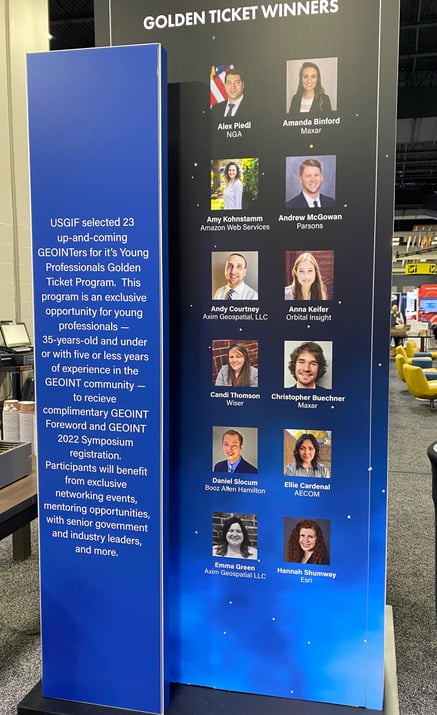 2. While the representation of data and business focused on data were at the forefront of the Symposium, I couldn't help but be reassured that there is still a huge need for the interpretation and production of intelligence and intelligence products.
Coming from the cartographic team here at Axim, the idea of machines mass producing charts and data can be a little daunting. However, even at the Symposium, there was still a nod to the artistry and human touch needed for useful intelligence products to be created. A nice nod to future job security in my opinion!
The first two takeaways were geared towards the community/industry as a whole, so now I want to shift towards my takes around personal career development and opportunities

3. Your network is the foundation for your career.
It should be extensive and should include those within the intelligence community, those from around your localities, and those where you can see opportunities opening up in the future.
While you may not use all of these contacts every year, having a peer that you can reach out to at a moment's notice will make your career tremendously easier down the road.
4. Mentor relationships are crucial in pushing your boundaries.
Mentors are meant to be your objective resource. To provide you with their take on your career and opportunities you're presented with. They are not meant to hold your hand.
Building off of this, you should try to find mentors outside of your current company and industry as well. You want multiple points of view when weighing decisions within your career, and you shouldn't limit yourself to mentors whose career paths follow your "dream career." We are not meant to be carbon copies of our mentors.


5. And my last takeaway was mentioned across various panels and mentorship sessions – be bold.
Take those opportunities that are given to you. Apply for that job you don't have a ton of relevant expertise for. Walk up to that CEO and introduce yourself.
Your life isn't going to be laid out before you in logical stepping stones. Sometimes we have to create our own path, or leap into the unknown. I'll be honest, that sounds terrifying even to me, but how are you supposed to build a career you're proud of unless you take those chances?
--
Axim proudly serves the GEOINT Community
Do you need help with innovative data solutions?