Geo Week is an annual event that brings together professionals at the intersection of geospatial and the built world. This year's event marked the first return to in-person attendance since events in 2020 and 2021 were moved to virtual during the pandemic.
Attendance was strong, with 145 exhibitors and over 1800 confirmed attendees reported. I had the opportunity to attend with fellow Aximites Dawn Siegel and Steve Mulberry and share some of the world of "geospatial" with them, as they have shared the world of "GIS" with me.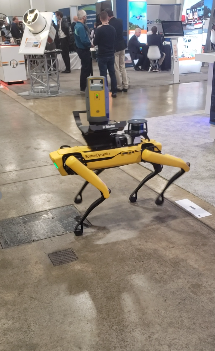 Development of lidar-based reality capture solutions continues to advance. In a market once dominated by Velodyne, the proliferation of compact, low-cost lidar units from companies like Ouster, Livox, Luminar, and Hesai is enabling systems integrators to build mobile reality capture tools for any environment. At Geo Week we saw mobile mapping systems integrated on cars, drones, hand-held devices, Spot the robot dog, and even a unicycle frame. All these tools are being used to document the built world with increasing detail and speed to support the development and use of digital twins.
Geo Week also presented an opportunity to hear the latest status updates on the USGS 3D Elevation Program (3DEP). 3DEP is a 10-year program initiated in 2013 to deliver complete high-resolution elevation coverage of all 50 states and provides an estimated $1.2B in annual economic benefit to the nation. The program works in partnership with many stakeholders for data collection, including the NOAA Office of Coastal Management. Dr. Jason Stoker of the UGSS presented the current state of the program and future efforts. At the completion of the 2022 program year, USGS estimates nationwide coverage will be 86% complete. USGS is already planning for the next generation of integrated data with the 3D National Topography Model (3DNTM), which will combine the next generation of 3DEP and the National Hydrography program to model the Nation's topography in 3D.
Lidar sensors integrated on Boston Dynamics autonomous robot dog 'Spot'. Novel integrations such as these increase efficiency of site inspection with lidar. Courtesy of Steve Mulberry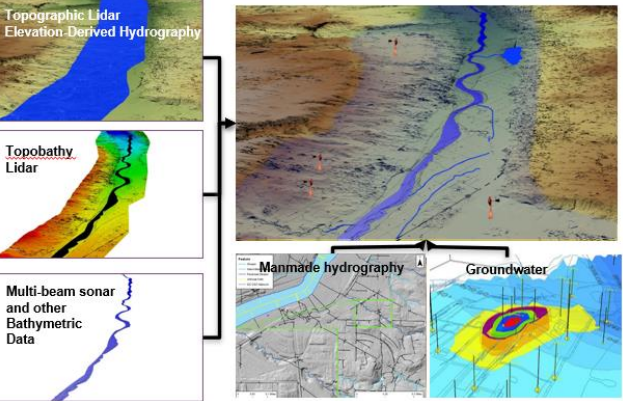 Functional hydrography models made possible by 3DNTM enhance water resource management, critical to securing drinking water supply for future generations. Courtesy of USGS National Geospatial Program.
Geo Week 2022 was a great opportunity to connect with friends and colleagues, learn about the latest in geospatial technology, and gain inspiration for the future. As companies accelerate the fusion of data capture, modeling, and management practices, I believe we'll continue to see a digital twin in a geographic context emerge as a critical requirement for managing the natural and built environment. If you're considering the acquisition of new geospatial data or better managing existing data holdings and aren't sure where to start, contact us at Axim today.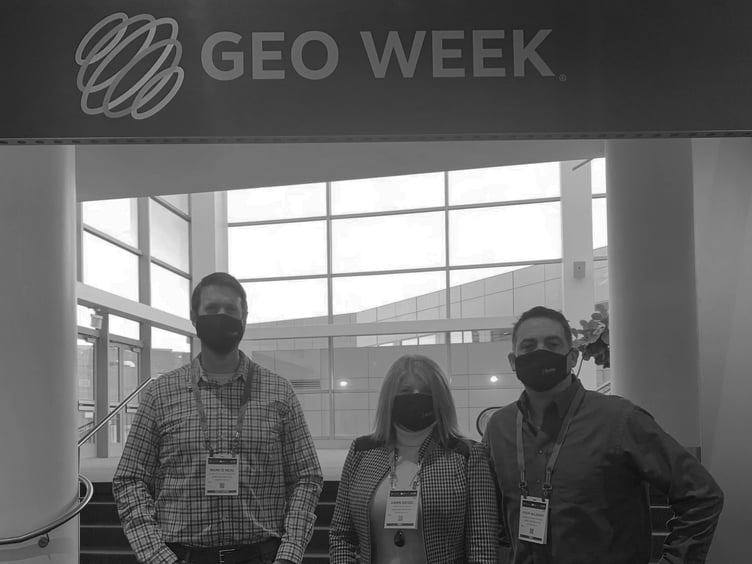 Mark O'Neal, Dawn Siegel, and Steve Mulberry represented Axim at Geo Week and connected with friends and colleagues about the latest geospatial technology.
Additional Guidance
We hope this article has provided some value to you! If you'd like to learn more about how we can help you solve the world's toughest problems, don't hesitate to reach out to the Axim team.