Welcome to the first article of our Women in GIS series! Over the next few months, different Axim Employees will spotlight different #WomenOfAxim to share with the geospatial community how diverse, talented, and impactful the women at Axim Geospatial are.
Let's first spotlight Kady Nolte out of Axim's St. Louis office!
Meet Kady
Kady Nolte is a real Jackie of all trades here at Axim! She has been at Axim for 4 years, 1 of which was interning while being a full-time student. She is a Geospatial Analyst II. Her main responsibility is as Project Lead for our cartographic products, which involves everything from training new members on the project to making sure deliveries get out on time. Kady is the go-to person for anything cartography and truly goes above and beyond every day to make sure things are running smoothly.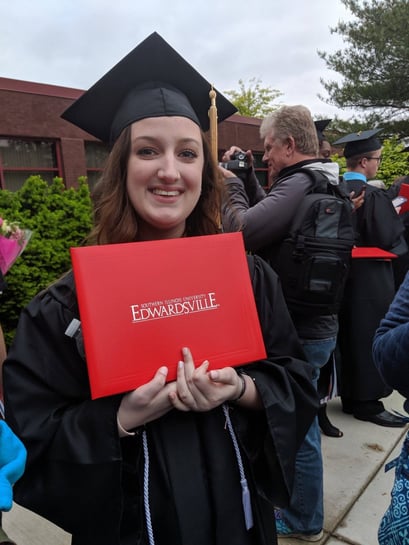 Kady received her Bachelor of Science in Geography with a minor in GIS from Southern Illinois University Edwardsville (SIUE) in May 2019. While in school she received the Geography Student Assistance Award, which is given to one geography major each year who has demonstrated exemplary leadership in their graduating class! She has since gone back to SIUE as a member of the alumni panel, where she spoke to geography students about her experience working at Axim, offered "real world" career advice, and answered questions from students. Because of this, we were able to add several other SIUE students to our internship program, where they were able to gain valuable GIS experience.
Supporting the Intel Business Unit at Axim
While at Axim Kady has worked on almost every project within the Intel sector including Cartography, Content Management, Airfield Qualification Program, and Vertical Obstructions. Out of all these projects, her passion is definitely Cartography. When looking for team members who were interested in learning NAVPLAN (flight navigation planning charts) back in 2018, Kady was one of the first to raise her hand. She learned the product lines extremely quickly and became a total natural in cartography.
When Axim was awarded an opportunity in 2019 to prototype two Navigational Planning (NAVPLAN) product lines (Tactical Pilotage Chart [TPC] 1:500K scale & Operational Navigation Chart [ONC] 1: 1M scale) for our client using newly updated specifications, Kady was the clear choice for getting them produced. Our client and the user community were impressed with the quality of our prototypes. Kady and our team's support resulted in opportunities to present our cartographic workflow to our customer and international partners on several occasions, as recently as April 2022.
Kady's favorite part of the job is being able to say that she actually makes maps for a living. She enjoys not only the creative aspect of producing maps but the technicality of improving data and processes as well. Throughout her time at Axim, she has felt inspired to see other women succeed in our field and fill leadership roles. She is extremely proud to be a part of a cartography team that is fully led by women and hopes this encourages other women in the industry to seek out careers at Axim.
In the Summer of 2019, Kady attended the first annual St. Louis Regional Women in Geospatial Technology Summit where she was able to connect with other women throughout the GIS world. Kady has kept in contact with the co-organizer at SIUE about future summits now that events like this are opening back up. It's looking like the second Summit will occur in Summer 2023, so she's looking forward to representing Axim and sharing experiences with other women in the industry.
Personal Fun Stuff
Outside of work, Kady continues her creative interests by crocheting and baking in her free time. If she had to pick a different career path, she would open her own floral shop or bakery…maybe even both! She also has a love of sloths, koalas, Schitt's Creek, The Great British Bake Off, and all things yellow! Fun Fact: Kady has watched every city of the Real Housewives franchise and loves chatting about it.
Kady has been such as asset to our company beginning with her time as an intern, to now as a trusted leader. She is someone that people feel comfortable going to because of her technical abilities, personable nature, and reliability.
We are very proud to have Kady as our first employee spotlight for our Women in GIS series!