Kaitelyn, more widely known by her fellow Aximites as Kait, is a shining star within Axim's Intel business unit. Kait started her journey here at Axim three and a half years ago as an intern. She now works as a Geospatial Analyst supporting the Content Management (CM) team, crafting high quality network data while also training new analysts on the project. Her warm personality as well as positive energy helps new analysts feel comfortable while entering the project, making her a key role to the CM team's overall success. In addition to training, Kait also helps solve problems on the day to day and helps with technical troubleshooting. She has extensive experience on the team and holds a plethora of CM knowledge. Kait's passion for her work can be seen in many lights, including her willingness to push and work extra hours to meet deadlines without sacrificing data quality. Her hard work consistently pays off, making her an easy pick for this month's addition to the Women in GIS series!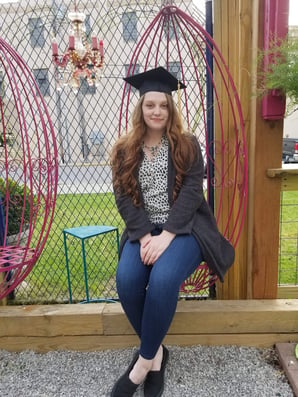 Kait first got interested in the field of Geography while working on her undergraduate degree in community college. She started her journey off by concentrating her general courses in Geography, where she met one of her largest influences, Professor Arnold, who at the time was her school's only Geography professor. Professor Arnold pushed Kait to take more GIS courses, where she found herself immediately hook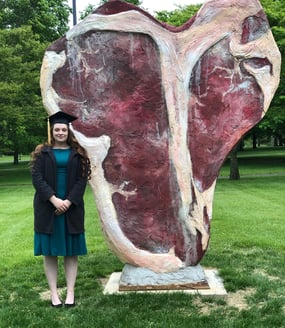 ed; GIS work was different from anything she had worked on before and was immensely fascinating, making it an obvious pick for Kait's education concentration. She continued her education at Southern Illinois University Edwardsville, where Professor Arnold later connected her to former Women in GIS alumni Kady Nolte about an internship opportunity at Axim. The internship was a perfect match for Kait, and she has been with Axim ever since! Kait miraculously juggled both her schooling and busy CM work without a hitch, graduating Cum Laude with her Bachelor's degree in Geography with a minor in GIS. Kait advises any women interested in the field of GIS to go for it, especially if you have a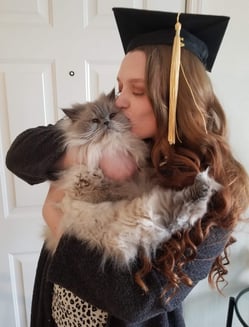 passion for learning new things. Opportunities within GIS are endless, and she says that "when you keep an open mind and willingness to learn, you will always find something to be passionate about."
In addition to being a Content Management wizard, Kait thoroughly enjoys spending her free time in nature. She loves to go hiking and explore different parks both around the St. Louis area and afar. Her and her partner often vacation to different National Parks to take in their beautiful scenic views (her favorite being more mountainous areas!) and plan on continuing their journey with the goal of visiting all the National Parks within the U.S. someday. When she isn't exploring outside, she can be found tending to her beautiful garden and spending time with her adorable fluff ball cat, Trixie! Kait's dream is to one day have a sustainable homestead far away from the busy city life somewhere in country in Tennessee. She would love to have property filled with chickens, goats, and fruit trees where she could fully support herself (and Trixie!). Growing her own food and creating a life off the grid has always been an end goal for Kait; As long as she still has internet access for GIS work of course!