As the largest public water and wastewater utility in the Carolinas, Charlotte Water (CLTWater) serves over a million customers in the City of Charlotte and greater Mecklenburg County, including the towns of Matthews, Mint Hill, Pineville, Huntersville, Davidson, and Cornelius. The utility has operated since 1889 and maintains 4,500 miles of water mains and wastewater mains, over 18,000 hydrants, 17 water storage and pumping stations, and 74 wastewater lift stations.
Challenge

As the GIS manager of Charlotte Water, Shannon Martel and her team of nine experts are responsible for a number of applications for CLTWater, managing everything from CCTV to automatic vehicle location. Geospatial data is a very high-value asset for Martel and her team. Martel, as well as the organization as a whole, maintains a GIS-centric approach to all applications and data.

To support a variety of functions, CLTWater relies on several integrations with their GIS data. Cityworks is the utility's primary system for work order and asset management. Additionally, they also use Trimble's e-Builder for project management, Hyland OnBase for records management, and Banner for financials and customer billing. Inspection data is collected from IT pipes, mobile devices, and contract companies. In addition to pulling in water quality data from LIMS and USGS stream data, a collaboration between the City of Charlotte and Mecklenburg County provides broader information regarding water quality. Finally, the team has real-time data provided by the GeoTab automatic vehicle location.
A custom tracing task identifies connected customers from a secondary address source and generates a mailing list.
The utility recognized that as part of a broader initiative within the City of Charlotte to eliminate ArcMap, it was time to move from the geometric network to ArcGIS Utility Network. The objective was to understand all the stakeholders and their needs, and develop and execute an implementation plan to make the transition to ArcGIS Pro, and Utility Network, a success.

Due to the announced deprecation of the geometric network, CLTWater, like many other utilities, needed to plan for the transition from the geometric network to ArcGIS Utility Network. This project was a significant task that required advanced planning, resources, stakeholder and user awareness, and the right team to make it happen.

A key requirement for Charlotte Water was to ensure minimal disruptions to normal operations during the transition. Their team understood that to have a seamless transition, CLTWater would need a well-defined plan to update their data, IT infrastructure, redefine processes currently being done in ArcMap, and bring all users up to speed.

However, despite the challenges, Charlotte Water recognized that the investment into transitioning to ArcGIS Utility Network would provide clear benefits for modernized network management, customer service, and future efficiencies.
"With its improved security measures, granular data options, precision, and ease of use, ArcGIS Utility Network was a natural choice for our utility."

- Shannon Martel, Charlotte Water


The Partner
Charlotte Water partnered with Axim Geospatial to ensure that they received guidance from Utility Network experts. The Axim Geospatial team then evaluated the utility's GIS program, data, and technical readiness while defining the pathway for adopting the ArcGIS Utility Network.

Then, Axim provided a structured approach of change management to Charlotte Water to ensure the staff and the organization were prepared for the transition. This included assessing the impacts of changing to UN, ensuring stakeholders were involved in the process, and preparing the utility with training and support.

After reviewing the utility's current system architecture, Axim identified the functional and structural business requirements to determine an appropriate high-fidelity database design based on Esri's base UN models. The team then created a detailed implementation plan that determined the operational drivers needed for transitioning to the UN. This plan included data migration into the data models and guidance on the sequence of events and tasks required to adopt the model with minimal technical and business disruption.

Understanding the state of their current data was critical to identifying the level of effort and how to approach the rest of the project best. Therefore, Axim performed a data readiness assessment of Charlotte Water's data. Based on that review, Axim provided guidance for the utility to address the most critical data updates and what could be done at a later stage. While the Charlotte Water team cleaned up data, the Axim team worked on database design, designed elements, and how to perform the data mapping.

The Axim team also set up the extract, transform, and load (ETL) data migration tool, leveraging the specialized SSP Sync software to manage the transition. SSP Sync allowed Charlotte Water to create a publication version of the UN parallel to their production geometric network environment. This functionality was essential to minimizing risk and ensuring minimal disruptions during the transition.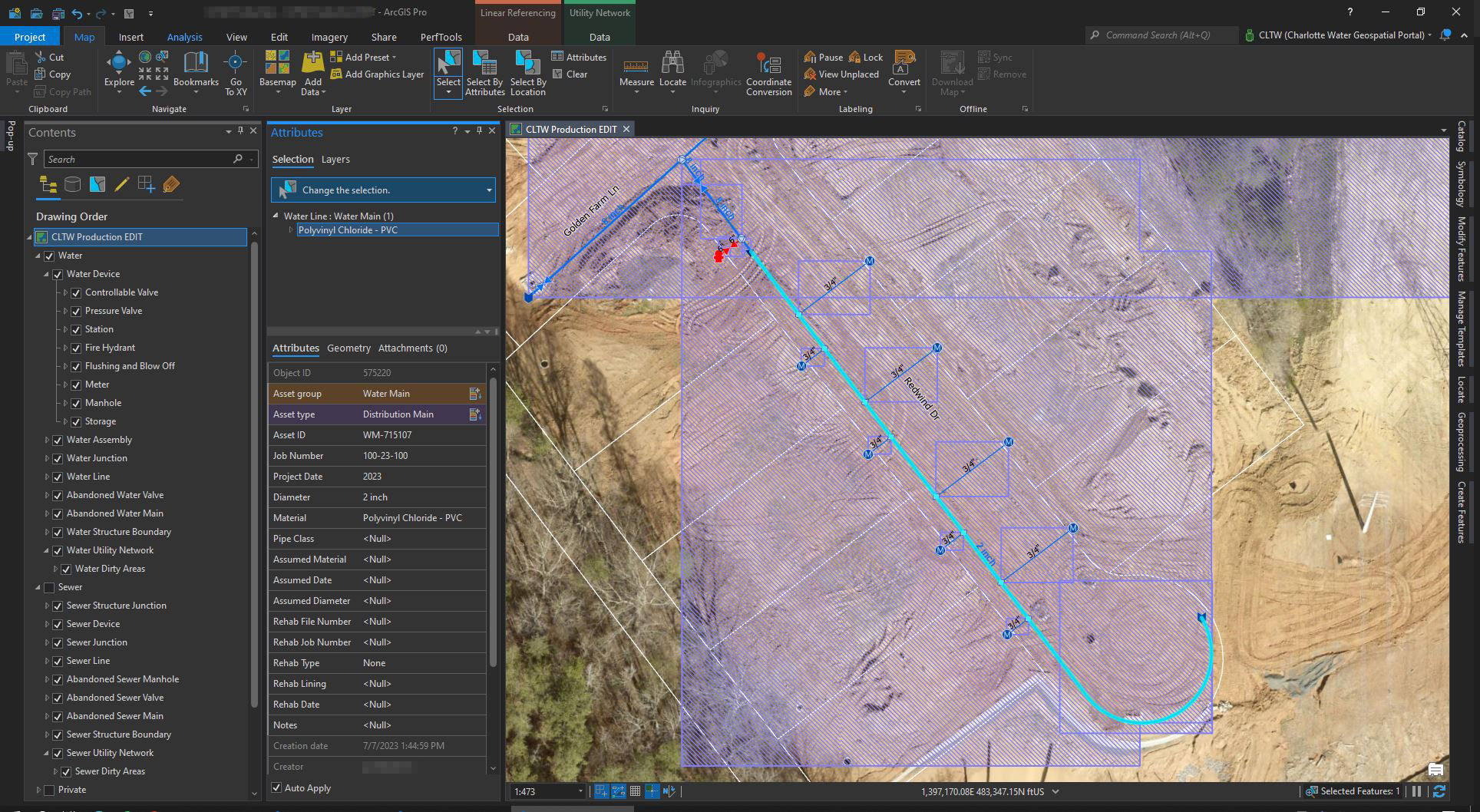 The Utility Network evaluates connectivity rules for each asset type, providing improved data quality.
Through iterative pilot implementations, the team loaded data and tested UN in a sandbox environment that ran concurrently with their existing system. Doing so allowed the team to sort out bugs and resolve issues without affecting a live system. During this phase, the utility staff began to work with the UN with training support from Axim. The team developed standardized symbology, which Charlotte's Cityworks team will eventually adopt.

For nearly a year, Charlotte Water operated in both environments, cleaning up data issues and transitioning web apps to consume the new UN. In addition to the Utility Network project, Axim assisted with an in-place upgrade of Charlotte Water's ArcGIS Enterprise environment during that time.
"With Axim Geospatial's support, we had all the tools, training, and resources we needed to successfully transition to Utility Network."
- Shannon Martel, Charlotte Water

The plan Axim developed for Charlotte Water empowered a smooth transition. With updated network data, an extended database model, the SSP Sync providing a seamless data migration, staff trained, and system integrations configured, CLTWater was ready to go live.

The Results
Charlotte Water became the first large municipal water and wastewater utility in the United States to be fully in production with ArcGIS Utility Network. Despite the early challenges, the UN continues to provide numerous benefits for the utility and its customers.

With its new high-fidelity data model, the utility can access more accurate representations of the conditions and functionality of real-world assets. Additional benefits include:


Increased functionality and granular data options, allowing for more detailed and accurate data management
Branch versioning functionality for historical analysis and better decision-making
Clean data, and the functionality of Utility Network to disallow input errors
Rapid tracing that all users are capable of performing quickly
Empowered mobile users to provide updates in the field
An overwhelming increase in web app usage compared with the desktop version
Improved data security by limiting user access and preventing unauthorized data downloads via web services

"Utility Network continues to prove its value to our organization and our customers, and we're glad to have implemented it at Charlotte Water."

- Shannon Martel, Charlotte Water
Overall, Charlotte Water's transition to the ArcGIS Utility Network has resulted in a more efficient and secure system for network management. Most importantly, the team's GIS system now follows modern IT best practices relying on a services-based architecture.

Furthermore, Charlotte Water now has the foundation for a digital twin of their physical asset infrastructure. The utility is at the forefront and positioned to leverage ArcGIS Utility Network to improve workflows throughout the organization dramatically. The utility continues working to integrate other business systems dependent on the GIS to begin using the UN, with the Cityworks Asset Management System as the prioritized system.

If your organization needs to implement ArcGIS Utility Network, or you want to ensure you are utilizing your existing platform to its full potential, reach out to Axim Geospatial today. We will work together with your team to help you reduce work silos, improve organizational efficiency, and make the world a smarter, safer, and better place to live.