This article was written regarding work conducted under legacy company names: Continental Mapping, GISinc, or TSG Solutions. These three companies merged in January 2021 to form a new geospatial leader Axim Geospatial.
Axim Geospatial was tasked with performing 90-miles of boundary survey services for the Fort Sill Military Reservation in Comanche County, Oklahoma.
Work included recordation of sealed plats at the county courthouse, establishment of angle points, points of line, points of curve, points of tangent, any related witness corners, and establishment of reference posts and signs for these features. Limited line clearing was also performed as needed.
The survey research proved to be a significant task involving many old documents, some dating back to the late 1800s, describing the history of Fort Sill's boundary. One described the Fort's original bounds as surveyed in 1897. At that time the boundary was marked by 4 stones at each corner of the property.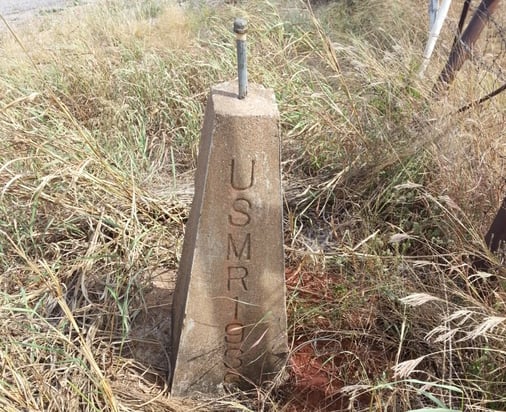 Summary of Services included:
Preliminary research including county courthouse research, property deed and property line agreement acquisition.
Survey the right of way of SR115
The establishment of a horizontal control network as needed
Performance of preliminary survey reconnaissance, including corner searches, utility locates
Monument boundary and setting POLs at required spacing
Note the location of potential encroachments
Deliverable production, including plats of survey, boundary descriptions, shapefiles and metadata creation
Axim simultaneously performed a 16-mile boundary survey at US Army Fort Polk in Louisiana through the same USACE contract vehicle.