This article was written regarding work conducted under legacy company names: Continental Mapping, GISinc, or TSG Solutions. These three companies merged in January 2021 to form a new geospatial leader Axim Geospatial.
A utility client on the east coast of the United States asked Axim Geospatial to perform a proof on concept to assess the value of mobile lidar and high resolution imagery to inventory assets in the field. The client needed to update its GIS database for asset inventory and regulatory reasons.
The client estimated that more than 300,000 poles were unaccounted for in their database. This is of concern for a number of reasons – one being that each pole generates significant revenue when third parties make use of the utility poles (i.e., cable companies, ISPs, etc.). A great deal of revenue is lost when the utility company cannot police the use of its poles.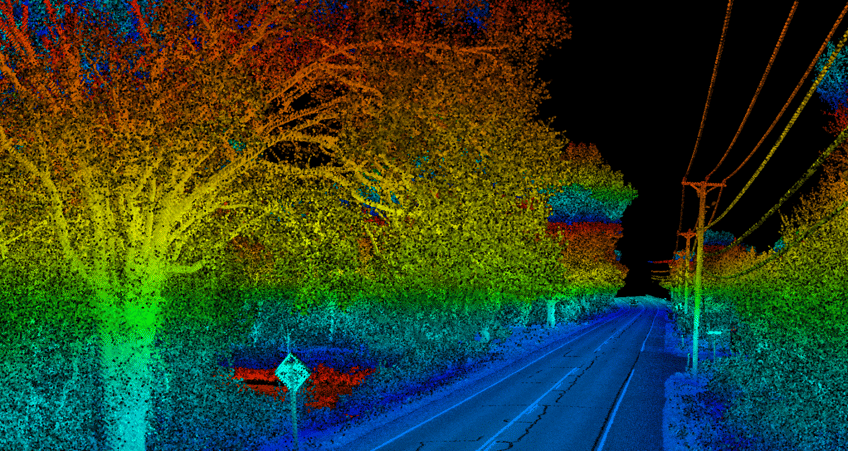 "Axim drove over 350 miles to prototype using mobile mapping to begin the search."
Axim worked with the client to design a solution that would assess the feasibility of updating the GIS database efficiently using mobile lidar. Axim drove over 350 miles of roadway to prototype using mobile mapping to begin the search. With this data development, the utility could look beyond the database and concern itself with a number of other issues such as mitigating complicated regulatory concerns.
360 degree lidar coverage provided sufficient density to easily detect the power lines as well as the poles being inventoried. The unit also integrates an inertial measurement unit and Global Navigation Satellite System (GNSS) equipment.
High Resolution Imagery
Typical asset inventory camera arrays on mobile mapping units come in at 5-10 megapixels (MP). While this meets many business needs and keeps file sizes and data management costs down, it often fails to give the level of detail desired by utility asset managers. Axim has a great deal of expertise with utility mobile mapping brought that to bear with the client. After performing a cost benefit analysis, Axim proposed mounting two state of the art 36 MP Nikon DLSRs be mounted on the vehicle. The lidar and imagery were then collected at posted speeds on routes carefully planned and laid out.
The acquisition was successful – effective and cost efficient. The imagery database provided to the client allowed them to see pole details including the text of any signs placed upon them as well as desired details of assets hung on the poles.