This article was written regarding work conducted under legacy company names: Continental Mapping, GISinc, or TSG Solutions. These three companies merged in January 2021 to form a new geospatial leader Axim Geospatial.
Indiana, like all states in the US, collects clearance data on every bridge in the state to meet federal reporting requirements and to inform infrastructure management needs. INDOT is obligated to report numerous bridge clearance measurements as part of the Federal Highway Administration's National Bridge Inventory. Additionally, new construction and aging infrastructure impacts bridge clearances so measurements must be consistently taken to support uses such as oversize/overweight permitting. INDOT collects, maintains, and reports six types of clearance measurements and other data on over 2,100 bridges throughout the state. Unique to INDOT was the desire to perform ad hoc measurements throughout the state as construction activities warranted as well as perform statewide, programmatic measurement collection.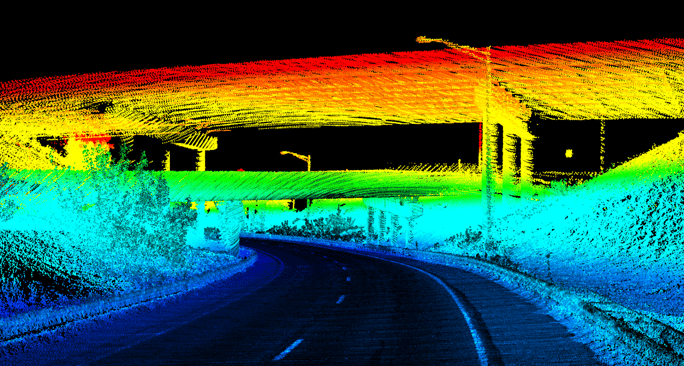 "In total,

Axim Geospatial

generated over 32,000 clearance measurements, including: nearly 18,000 vertical clearances, over 4,200 horizontal clearances, and over 6,000 lateral clearances."
To meet these needs, INDOT selected Axim Geospatial to collect data, derive measurements, and produce reports on each bridge. INDOT chose Axim because of the company's ability to effectively manage statewide and ad hoc collection and the reliability of results from its mobile mapping system, from which the six required clearance measurement types are derived. INDOT and the travelers of Indiana's roadways benefit from Axim's experience, stellar safety record, and the value of a competitive price point assisting in keeping their highways safe.
Axim understood and executed INDOT's requirements for multiple phases of data collection, both ad hoc and statewide. The ad hoc collections are performed as needed and prioritize bridges that, due to construction or other alteration, need verified clearance data quickly. The statewide collection is performed every two years to update the state's complete inventory and satisfy federal reporting requirements.