This article was written regarding work conducted under legacy company names: Continental Mapping, GISinc, or TSG Solutions. These three companies merged in January 2021 to form a new geospatial leader Axim Geospatial.
Kewaunee County, Wisconsin, like many other counties in the state, and throughout the United States, has rich historical archives with documents, photos, and data, including aerial imagery dating back many decades. However, many of these historical artifacts exist solely in physical form, often paper documents archived in public libraries and government buildings. As time takes its toll on physical records, the value of connecting modern digital archival tools with historical data is valuable as government agencies and the general public can benefit from referencing historical and modern aerial imagery together. With this integration, users can evaluate the extensive changes of land use and land cover as well as impacts of conservation efforts. In 2014, Kewaunee County began a project to pull archived historical aerial imagery contact prints covering the county's 343 square miles in order to scan, orthorectify, edit, and upload the historical imagery to their online GIS portal.
Farmland makes up a good portion of the mostly rural county. "Locating precisely where old homesteads were once located is the most obvious benefit of having this imagery," said Steve Hanson, Kewaunee County's Land Information Director.
Kewaunee County identified a 1938 imagery set available through the Wisconsin State Cartographer's Office archives in Madison, WI, and sought geospatial professionals to acquire, edit, and process the aerial imagery for upload to an online portal. Axim Geospatial was chosen due to the company's proven experience in historical record research capabilities, past performance in deriving orthophotography from historical imagery, and production workflows.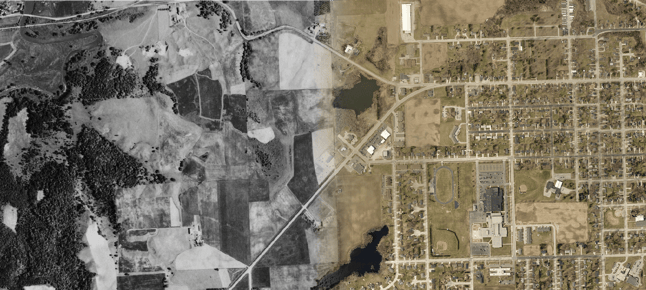 "Knowing where old homesteads were located made it easier for us to map the abandoned wells in our county and place them on manure spreading restriction maps, which are then given to farmers."
- Steve Hanson, Kewaunee County Land Information Director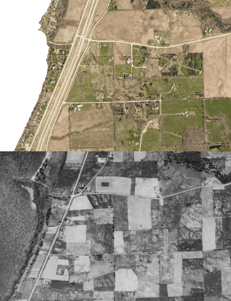 The practical applications of the historical data are many. "Knowing where old homesteads were located made it easier for us to map the abandoned wells in our county and place them on manure spreading restriction maps, which are then given to farmers," added Hanson. The ability to cross-reference historical and modern data sets is valuable as well. "By having a series of historic images we can track the progression of tree removal and/or wetland draining … and has also been used to help resolve boundary disputes."
1938 aerial imagery (bottom) gives context to land changes over time, including highway construction along the Green Bay coast, agriculture, and residential development as seen in recent color aerial imagery (top).
To achieve the best quality and highest degree of accuracy from the hard copies of the aerial imagery, Axim scanned the archival hardcopy contact prints at a resolution of 600 dpi, resulting in a 3' pixel size. Next, the images were orthorectified from control points derived from existing 2014 orthophotography and 2014 classified countywide lidar, then draped over a countywide surface model. Once the images were rectified, the outer black pixels were clipped from each individual image and then mosaicked together. Bridges were corrected for displacement, along with anomalies found in large bodies of water and hand-written annotations in the historical documents were edited. The resultant horizontal accuracy was +/-10 feet which pales against today's high accuracy standards but are quite sufficient considering the vintage of the imagery and intended uses.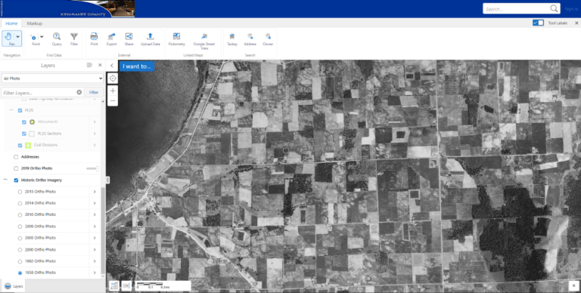 Kewaunee County's Online GIS Portal gives easy access to historical and current GIS data
The resulting data was compiled and delivered as one image in MrSID format. Kewaunee County uploaded the final digitized historical data to the publicly-accessible Kewaunee County GIS Portal.
"By adding historic imagery to our GIS website, it is now possible to get GPS coordinates of features which are no longer visible on current imagery and/or may not longer even exist," said Hanson. "Our county surveyor has used our historic imagery in this manner to verify the locations of large trees and/or features that are mentioned in the original government survey field notes but no longer exist today."
Through the online GIS portal, the public can compare historical ortho data sets to get a better understanding of Kewaunee County's past and present. This data is useful for everyone for purposes from conservationists looking at change detection, to farmers understanding land use overtime for agriculture, to the general public interested in getting a unique perspective on how Kewaunee County has changed over the past 80 years.
"It is just really cool to use in conjunction with our other GIS data. Whether I am showing it to a genealogist or a landowner for the first time, their initial reaction is always, 'Wow!'"