This article was written regarding work conducted under legacy company names: Continental Mapping, GISinc, or TSG Solutions. These three companies merged in January 2021 to form a new geospatial leader Axim Geospatial.
Record-breaking flooding along the Missouri River required the US Army Corps of Engineers to collect geospatial data to understand and mitigate the flooding risk for levee districts in Nebraska, Iowa, and Missouri.
In 2019, flooding along the Missouri River in Nebraska caused an estimated $3.4 billion in damages. Combined with 2020 estimates of another top 10 run off year in over 120 years, the US Army Corps of Engineers (USACE) needed better data to understand flood damage and mitigate future risk to the communities, utilities, farmland, and infrastructure along the river's path through Nebraska, Iowa, and Missouri. The portion of the Missouri River that winds through the three states is monitored and controlled by numerous levees, with 19 separate levee districts maintained by the USACE Omaha District. Within these districts are critical military and utility infrastructure, communities, as well as natural and agricultural resources.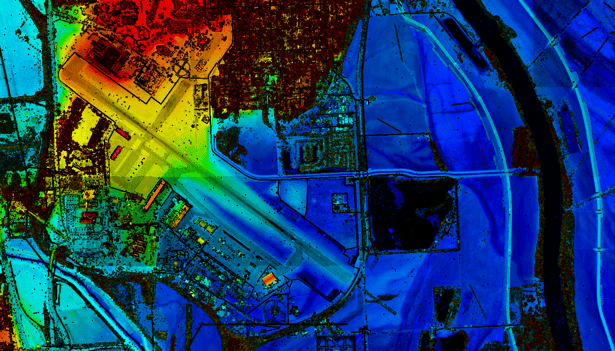 Offutt Air Force Base and the Missouri River
Offutt Air Force Base, just south of Omaha, Nebraska, is home to the U.S. Strategic Command, one of 11 unified combatant commands in the Department of Defense. The base, located in levee district R-616, was impacted by the Missouri River's persistent flooding in 2019, causing half of the base's runways to be submerged under water. The flooding hindered operations and required flood damage assessment and the need for significant levee repair.
Infrastructure is also at risk from the Missouri River's flooding. Within levee district R-573, the Omaha Public Power District Nebraska City Coal Power Plant is a significant energy source for the region supplying approximately 1330 megawatts of power from 2 coal-fired units. Many homes, communities, and businesses receive power from the plant. Directly adjacent to the Missouri River, the plant is critical to keep protected and operational, as flooding could impact power supply to the region and could have environmental impacts as well.
Additionally, residential areas along the Missouri are susceptible to flooding. In the Lake Waconda levee district, a community of homes and families are susceptible to the dangers of a flooded Missouri River. During the 2019 flooding, the Lake Waconda levee was damaged, resulting in significant runoff that impacted the homes and communities of that waterfront recreational community, and required the levee to be repaired.
USACE Omaha required geospatial data of the entire region to understand the effects of the 2019 flooding, to compare against historical data, and for future engineering. The Corps selected Axim Geospatial to collect and process aerial lidar across over 574 square miles along nearly 80 miles of the Missouri River.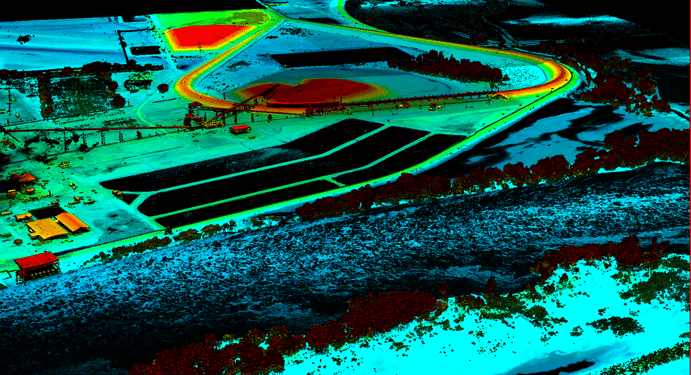 The Nebraska City Power Plant is protected by levees from Missouri River flooding.
Axim completed all flight planning and coordinated the aerial lidar collection. Survey crews navigated often challenging terrain and collected over 100 ground control points to control the collect and 60 checkpoints to validate accuracy requirements. The aerial lidar was collected at 8 points per square meter, meeting ASPRS/NDEP standards with an absolute accuracy of RMSEz of 4" for non-vegetated areas per USACE EM 1110‐1‐1000 standards (includes NVA of 7.8" at 95% confidence interval and VVA of 12" at 95% confident interval). Axim processed the source data and is currently creating the mapping products USACE requires. The deliverables will include high accuracy classified lidar using ASPRS standard point classes in LAS version 1.4, a DTM from the bare earth lidar in Bentley InRoads format, 2.0' resolution DEMs in Erdas Imagine format, hydro-flattened breaklines as an ESRI geodatabase, 1' contours, metadata compliant with the Federal Geographic Data Committee's (FGDC) Content Standard for Digital Geospatial Metadata, and RMSE error reporting.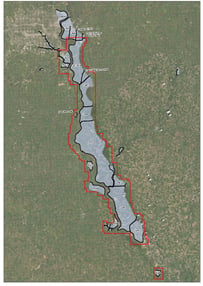 Once delivered, the data will be leveraged by USACE to compare to historical data for damage assessment to structures like levees, for review of changes in hydrographics, for identifying where repairs are needed, and for re-engineering and construction of levees. With this data, USACE can better maintain the levees, mitigate flood damage, and help keep utilities, resources, and people safe in along the Missouri River.

An interactive map maintained by USACE shows levee districts, status updates, repairs, and future plans, can be found here.
Disclaimer: Allowing the usage of the data collected by the Corps of Engineers' contractor on a Corps project, is not intended to suggest an endorsement of the contractor by the Army Corps of Engineers. Such endorsements are prohibited by the United States' Joint Ethics Regulation, at Section 3-209. Endorsement.