This article was written regarding work conducted under legacy company names: Continental Mapping, GISinc, or TSG Solutions. These three companies merged in January 2021 to form a new geospatial leader Axim Geospatial.
Challenge:
A joint task force between the Federal Highway Administration and American Association of State Highway Transportation Officials conducted a study of over 1200 auto accidents across the United States involving serious harm or loss of life despite the presence of guardrails. Their report not only concluded a particular make and model of guardrail end terminal to be defective but a significant portion of end terminals was also installed incorrectly. In light of this report, the Minnesota Department of Transportation (MnDOT) commissioned Axim Geospatial to complete a statewide inventory of end terminals along its roadways to locate, inspect, identify and replace the infringing assets. The Barrier End Terminal Inventory and Assessment (BETIA) original project scope defined 6 end terminal-related assets. MnDOT wished to capitalize on the effort by compiling a comprehensive inventory of 13 additional transportation assets within its right-of-way to support other business needs.
Scope of Assets for Inventory
End Terminals
Longitudinal Metal Barriers
Transitions
Cable Barriers
Cable Anchors
Crash Cushions
Signs
LRS Centerline
Edge of Pavement
Paint Striping
Rumble Strips
Concrete Barriers
Light Poles
Traffic Signals
Overhead Sign Clearances
Bridge Clearances
Utility Line Clearances
Catch Basins
Reference Markers (Mile Markers)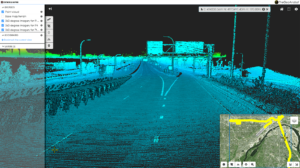 Lidar and imagery collected for the BETIA project as viewed through TheGeoAnalyst web-based viewer.
Solution:
MnDOT selected Axim Geospatial to design a database for the desired asset information, develop operations and maintenance documentation for long-term maintenance, map all assets, field inspect all end terminals, and report back all findings to MnDOT. Axim devised a workflow for collection that utilized mobile lidar acquisition, field survey assessment, and proprietary software to optimize the processing, validation, and distribution of data to MnDOT.

Axim acquired 15,000+ centerline miles of street-level imagery and lidar across MN roadways. To date 47,678 safety assets (including 15,500 end terminals) have been collected, identified, extracted, and mapped. Project status and the resulting geospatial data were disseminated to MnDOT through TheGeoAnalyst™, Axim's cloud-based project status and 3D data hosting solution.
Results:
MnDOT is now proactively maintaining a single, standardized asset inventory
MnDOT can more accurately direct maintenance crews to the location of its assets for repair and replacement
MnDOT is now pushing for higher installation standards with contractors
MnDOT's asset inventory can be easily shared with other departments through TheGeoAnalyst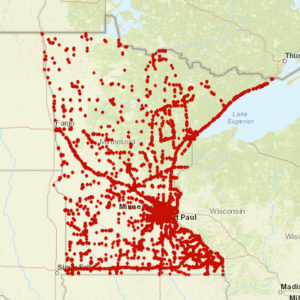 Locations of over 15,000 barrier end treatments throughout the state. Their conditions were assessed and cataloged for MnDOT review.
Does this story resonate with you?
If you would like assistance with asset inventory or geospatial services, schedule a meeting with our team!