This article was written regarding work conducted under legacy company names: Continental Mapping, GISinc, or TSG Solutions. These three companies merged in January 2021 to form a new geospatial leader [Axim Geospatial].
Aztalan State Park showcases an ancient village that thrived between AD 1000 and 1300.

Profile view of a mound structure at Aztalan State Park
These settlers built large, flat-topped pyramidal mounds and a stockade around their village, which is now reconstructed in the park. The prehistoric site of Aztalan is a federally designated National Historic Landmark and is a principle archaeological site in the Upper Midwest. To support further field exploration, identification, and earthwork profiles of archaeological features at this site, Wisconsin DNR called on [Axim Geospatial] to collect lidar data and digital orthophotos in order to create a 3D historical landscape to represent Aztalan at peak occupation.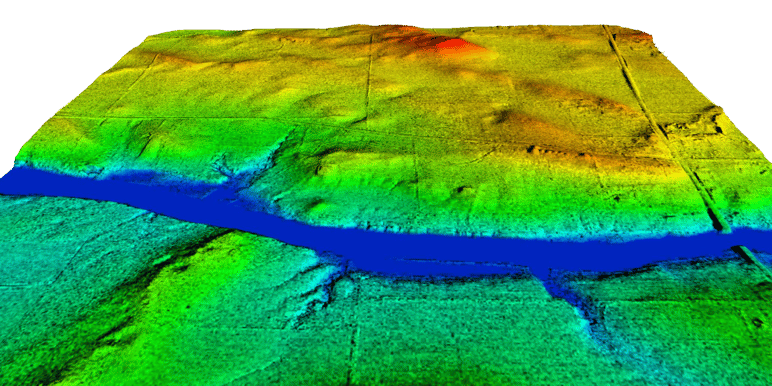 [Axim] provided lidar for the Aztalan archaeological site near Lake Mills, Wisconsin. [Axim] was responsible for the collection of aerial lidar with an average point spacing of 0.5-0.7 meters or better with vertical accuracies of 15 cm RMSE and horizontal accuracies of 0.5 meters or better.
Deliverables that [Axim] provided for this project included raw lidar data (point cloud), bare earth DEM at 1-meter resolution, first and last returns of lidar data, data collection reports and spatial metadata, DTM, TIN, and shaded relief model in the client's specified data formats.
With these tools, the Wisconsin DNR was able to move forward in its efforts to develop a 3-D rendering of the Village—a valuable tool to further our understanding of the village and its inhabitants.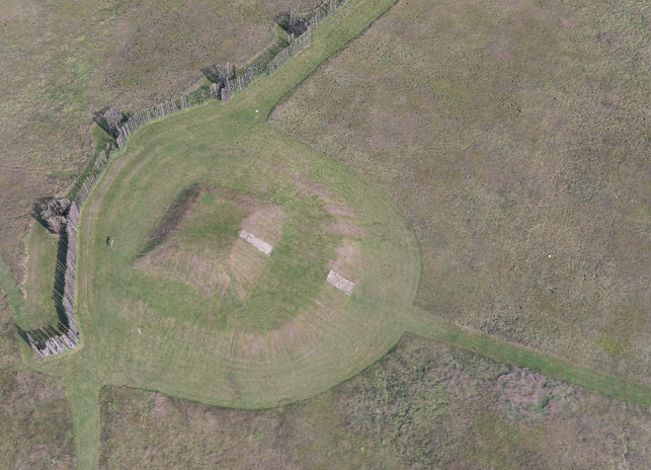 Colorized point cloud from aerial imagery collected on an unmanned aerial vehicle. Point cloud shows a mound left by the Native American settlers in rural Wisconsin (Aztalan) who left Cahokia (near St. Louis in Illinois) and traveled upriver to settle here between 900 -1300 AD.