This article was written regarding work conducted under legacy company names: Continental Mapping, GISinc, or TSG Solutions. These three companies merged in January 2021 to form a new geospatial leader [Axim Geospatial].
[Axim Geospatial] provided photogrammetry and aerial lidar to support pavement analysis at Fort Hood, Texas.
Under its Indefinite Quantity, Indefinite Delivery (IDIQ) contract held through the US Army Corps of Engineers Fort Worth District, Axim was tasked with performing field topographic, planimetric, and utility surveys of South Range Road and Ammo Road in Ft. Hood Texas. Axim also performed office computations and 3D digital mapping for use in developing plans and specifications for the two roads. A primary focus of this project was the considerable damage caused to the road by heavy military equipment, and it was the understanding of Axim that issues like alligator cracking were of significance to project engineers at Fort Hood.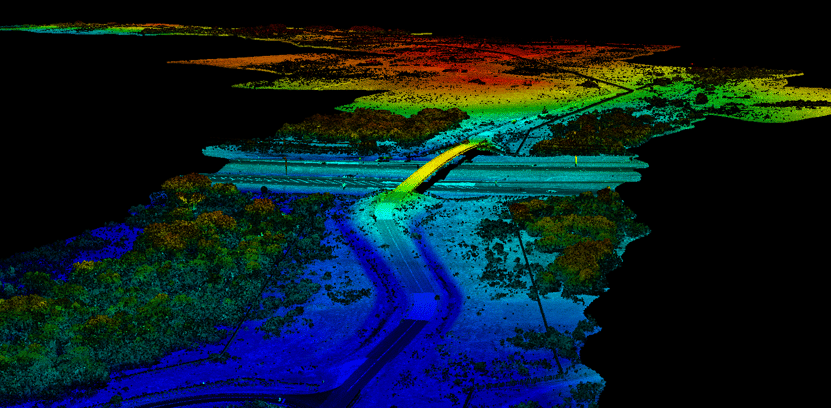 To meet engineering needs, Axim proposed aerial lidar and imagery that was tied in with a detailed land survey plan. Within the survey deliverables were locations of all underground utility assets obtained through Subsurface Utility Engineering (SUE) survey practices.
Axim worked with the Fort to establish a coordinated flight plan that would not interfere with the Fort's congested air traffic. The period of performance was 54 calendar days.
Deliverables included:
Draft Work, Quality Control, and Safety Plans
Meeting Minutes
Government comments of Minutes
Final Work, Quality Control, and Final Safety Plans
Ammo Road Draft Survey for review
South Range Road Draft Survey for review
Government Review Period Drafts
Final Survey
Government Back-Check final
Final Back-Check Submittal