This article was written regarding work conducted under legacy company names: Continental Mapping, GISinc, or TSG Solutions. These three companies merged in January 2021 to form a new geospatial leader Axim Geospatial.
The Tennessee Department of Transportation tasked Axim Geospatial with collecting and delivering over 10,000 square miles of orthophotography data to update the Tennessee Base Mapping Program (TNBMP) online database.
To collect and deliver current and accurate orthophotography, TDOT works through a Photogrammetry and Mapping On-Call contract. Through this contract, orthophotography is produced for each of TDOT's four regions on a rolling collection cycle.
Axim, a longtime incumbent on the TDOT Photogrammetry and Mapping On-Call contract, was tasked with aerial imagery collection and orthorectification across TDOT's Region 2 in 2018. Region 2 encompasses a quarter of eastern Tennessee, covering 24 counties and over 10,000 square miles. The region includes large urban areas like Chattanooga, other urban and rural areas, as well as natural terrains like rivers, mountainous stretches, and wildlife management areas. The variability in terrain and the expansive scope of the project required expert knowledge in project planning, execution, and technical expertise.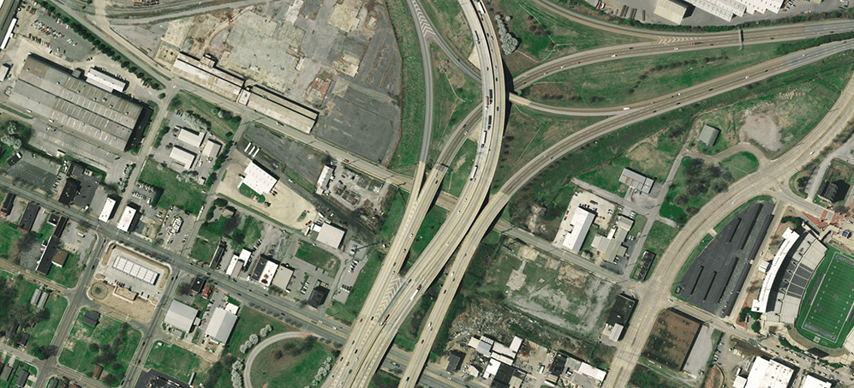 High-resolution aerial orthophotography provides excellent detail.
Axim coordinated aerial acquisition and performed orthorectification of over 10,000 square miles of aerial imagery and mapping data. To establish accuracy and to meet TDOT requirements, flights were planned with 80% forward lap, with a nominal side lap of 35% (minimum 30%) using a Ground Sample Distance (GSD) maximum of 10 US survey inches. The flight planning and scheduling also were executed using a south to north/north to south flight pattern to meet TDOT standards. Images were acquired using an UltraCam airplane-mounted camera system and delivered in duplicate on non-returnable 2 TB compact external hard drives. Additionally, sun angle requirements for the collection process were also specified and adhered to.

Map of TDOT's four regions across the state (Image courtesy of TDOT)
With the data delivered, TDOT was able to update the entirety of Region Two's orthophotography data on the TNBMP database online. Axim's work and data are helping give government departments and institutions across the state the geospatial insight for historical data comparison, engineering and construction projects, to change detection and environmental and conservation work.
The data is collected at 10″ GSD and for the TNBMP sampled to 1-foot pixel resolution for consistency.