In the sixth article of our series on digital twins, we explore applied solutions as the configurable component that bring digital twins to life. Applied solutions deliver business value and serve the mission. Whether the digital twin supports planning, security, design & construction, operations & maintenance, collaboration, etc., there are applied solutions for all disciplines.
In the previous blog, we looked at real-time data and IoT integrations with our digital twin, now mature and actively engaging with the world. Now, we will introduce a few specific case studies where Axim has designed or implemented scalable applied solutions by applying some, or all, of the previously reviewed digital twin components: reality capture, geospatial cloud, open data & APIs, and real-time data. The first case study examines our implementation of a security digital twin.
Axim's Applied Solution for Physical Security
Axim's applied solutions for physical security assist in meeting anti-terrorism requirements and ensuring the safety and security of our military dependents in over 160 schools worldwide. Axim maintains a proprietary digital twin application, Visualization for Situational Awareness and Reality (ViSAR™). ViSAR is a web-based crisis management system that aggregates key data elements, assets, still photos, floor plans, panoramic images, and other critical information to create a digital model of the interiors and exteriors of a facility.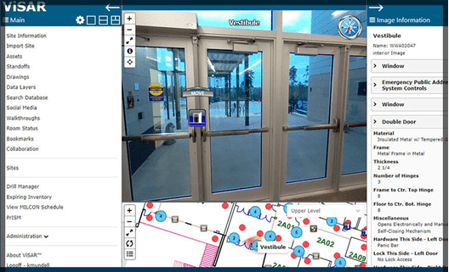 The ViSAR system supports planning and situational awareness for emergency management, security/safety program monitoring, and incident response. Authorized users have access to a shared database of critical facility information. With this information, school safety teams, police, and fire departments can respond faster, more coordinated, and with enhanced situational awareness. Axim personnel regularly visit domestic and international facilities to update data, analyze current physical space conditions and perform risk assessments. The ViSAR applied solution provides real-time sensor integration, additional trusted and user-selectable data layering, and social media monitoring.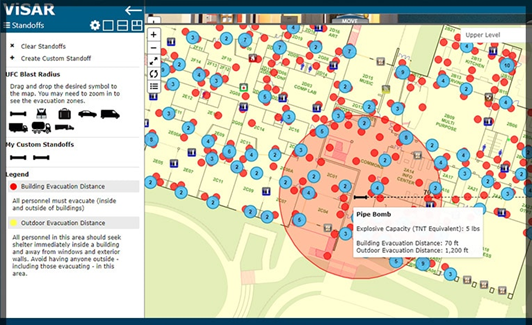 The ViSAR application, or Axim's sister application ARTiY, provides either a stand-alone solution or may serve as the security-based component to a digital twin platform with additional design-build, construction management, environmental planning, and utility maintenance and operations. Axim-supported systems are helping protect our nation's most sensitive infrastructure at schools, port facilities, military properties, and other federal, state, local and commercial assets. Maintaining a focus on both the security of the digital twin and its physical counterpart is critical to mission success for any digital twin with a critical infrastructure scope.
Bring your digital twin to life with the applied solution that supports your mission. All five components should be in place for the digital twin structure to be fully supported. Our next article will highlight another case study of an applied solution.

If you are ready to get started with digital twins or have questions about applied solutions configurable to a specific mission, schedule a meeting with our experts through the button below.