In the fifth article of our series on digital twins, we explore real-time data as a key configurable digital twin component. Check out our fourth article where we explore the open data & APIs component.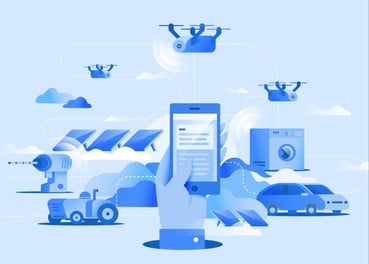 Through this digital twin blog series, we have explored the development of digital twin capabilities, including reality data capture, geospatial cloud services, and open data plus APIs. At this point, our twin has grown through the model phase, been provided an opportunity to travel via cloud services, and started communicating or sharing with the world via open data and APIs. Our digital twin has grown up and is now ready to interact increasingly and benefit from real-time data feeds and the Internet of Things (IoT). IoT refers to the network of connected devices and the technology that enables communication directly between devices or between these devices and the cloud.
The IoT is growing daily, and with the increase in connected devices, there are several implications for any digital twin that opens its door to it. Factors to consider when opening a digital twin to the IoT may include:
The ability to scale and accommodate new devices

Interoperability between devices

Quality of incoming s

ensor feeds

Security of incoming sensor feeds

The digital twin's platform capability to analyze and respond to the incoming, diverse, data promptly
If any of these factors fails or is compromised, the value of the entire digital twin may be compromised. Our twin needs help navigating the world, and outside influences, a poor-quality data diet, and security lapses easily influence it.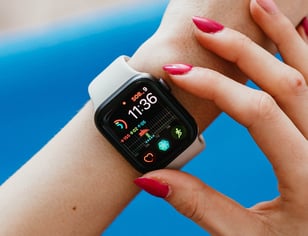 Examples of real-time data impacts on everyday modern life are relatively easy to find. Many folks are wearing sensors disguised as watches, connecting the individual with updates including time, time zones, weather, fitness metrics, and more. These same devices are typically connected to the IoT and may stream data to smartphones, laptops, friends, healthcare professionals, or others. Wearable gadgets, connected vehicles, precision agriculture, smart homes, innovative schools, intelligent ports, smart cities… how many more use cases can you list? Wherever real-time data and the IoT are deployed, opportunities exist for efficiencies, improved safety, and improved decision-making, along with the security risks, privacy concerns, and safety issues associated with poor quality or interrupted data. Having a partner skilled in identifying and mitigating any of these risks is essential during the design and implementation of your digital twin platform.
Everyday Axim helps clients design, implement and sustain systems with integrated real-time data. Axim-supported systems are helping protect some of our nation's most sensitive infrastructure through real-time sensor data and access control systems. Axim also has a long history of providing force protection services through geospatial-enabled software and sensors better to protect military dependents at domestic and overseas campuses.
Where real-time or variable data supplement a digital twin platform, you may see digital triplets enter the lexicon. It may also be used in reference to a digital twin where human processes are incorporated. Rather than deep dive into a nebulous digital triplet, consider a well-designed, scalable digital twin platform capable of integrating real-time and other process data. A robust digital twin makes the discussion of future triplets, quadruplets, or distant cousins fun to contemplate but unnecessary for operations and execution.
Whether your mission emphasizes facilities, security, coastal resilience, intel, or a combination of these focus areas, digital twin capabilities integrated with real-time data may be relevant to the geospatial-enabled solutions. If you are ready to get started with digital twins or have questions about real-time data, sensor use cases, or the IoT, click the button below to schedule a meeting.
Our next post will highlight the final component of our digital twin framework, Applied Solutions.